Did you all know that 64% of women are wearing the wrong bra types?
However, ironically the 24% of women know that they are wearing the wrong bra size. No wonder we all just cannot wait to pull our bra off the moment we reach our home. All of us are doing something fundamentally wrong. So, we had to find this method to madness before it affects your health anymore.
Firstly, simply put a professional fitting, then understand the different types of bra out there and, most importantly, invest in the bra, which is meant for you. That all takes care of your bra woes, and so does this article.
Learn below the different types of bra with names and pictures.
Some women put there just feel so comfortable being covered up. If all this works for you, then it may help you to have a better sleep. There are various other reasons why sleeping in a bra may provide you with some hefty extra comfort.
When you are pregnant, your sensitive breast may change and ache as they start growing. An elasticized and soft bra can help you feel more comfortable and much supported overnight.
Wearing a good ladies' bra to bed could help relieve some of the variations of back pain, particularly the upper back pain, thereby leading to a more restful sleep.
For many women out there, sleeping in a comfy bra is a regular habit as it helps them get a sound sleep. Most women, especially those with big breasts, feel better when a comfortable bra fully supports their breasts.
There is a lot more going on in the way of important anatomy around your chest area. If you wear a too tightt bra, you may restrict the blood supply to your breasts only and the surrounding areas, causing arm pain or little numbness.
Hooks, lace type bra, and other parts of your bra can rub, even more so whenever you are tossing and turning at night. This all whole constant rubbing on your sensitive skin around your breast size can lead to severe rashes and irritation.
Your skin can become darker and then appear sore if it is under constant pressure, like that from a bra band or its strap.
The excess sweat gives a breeding ground for breast fungus, an aggressive skin infection that required medical attention. Wearing a bra to bed can also magnify this risk.
Skin irritation can also impact your sleep and causes restlessness, thereby leading to longer-term bad sleeping patterns. Similarly, an underwired bra can also have an important effect on your sound sleep, whether or not you realize it.
There are various bra type names that every woman should learn about. We know that it's difficult to choose from the bra names list, so we have discussed the best bras for girls below. Following are the type of bra with name and image and the bra usages:
1. T-Shirt Bra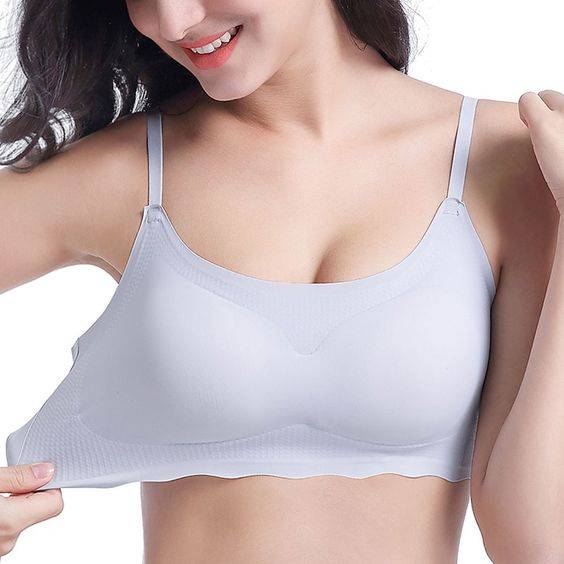 These T-shirt bras come with a molded protection, sometimes with the help of an underwire, but not necessarily being padded. They add rigidity, and also, depending on your bust size, they try to give a minimized look. It is that underwire that is offering complete coverage, and the whole hefty idea is just to take you far away from the fear of a double boob or a pop out.
---
2. Sports Bra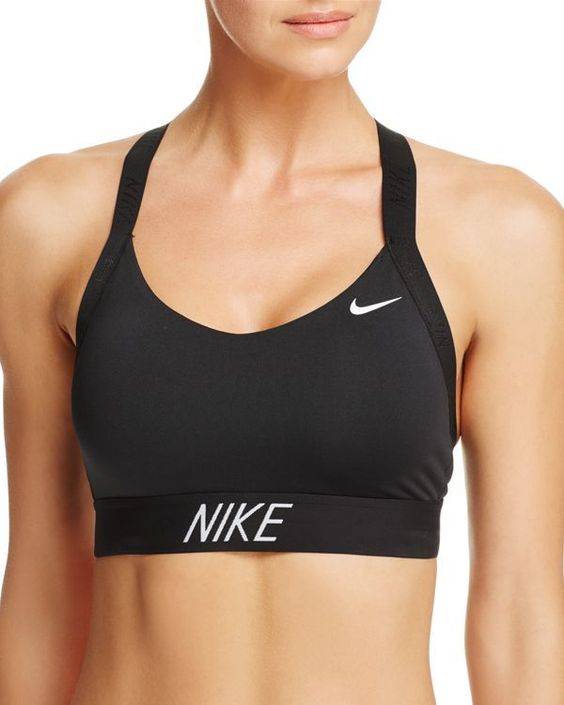 A sports bra cannot just suffocate your breasts, or it can also result in a uni-boob. There are a few things to remember, gently rubbing your finger along with the band between your breasts and then ensuring that you can pull about an inch from your chest; the bra's front straps should be as less stretchy as possible for much better motion control. Moreover, there is no spillage of the breasts out, that will imply what you need the next size. Choose that bra based on the activity; a low impact sports bra is surely suitable for yoga, hiking, or walking, and a high impact one is needed for rigorous breast exercises like aerobics, running, Zumba, etc.
---
3. Push Up Bra
It's based on just a simple mechanism of adding a hefty lift and volume to your breasts so that they will be in symmetry, much closer, and fuller. For starters, a push-up bra can help you all women with a smaller bust line or those whose breasts do not stick high up at your chest.
---
4. Padded Bra
The Padded Bras has been an all-time savior for so many reasons. It provides a fuller look for women with smaller boobs, and in winters, it provides you a complete nipple coverage and an overall fuller look. However, some women do not prefer it as it can sometimes make their boobs look double their breast size. The reason behind this could be that there is an error while choosing the size or the design.
---
5. Strapless Bra
You all need to go down one step smaller because the band size is like the one-man army holding the girls together, plus supporting your chest. Remember, your dress should be slightly loose near your chest and tighter near your waist; else, we all are then back to the square one.
---
6. Lace Bra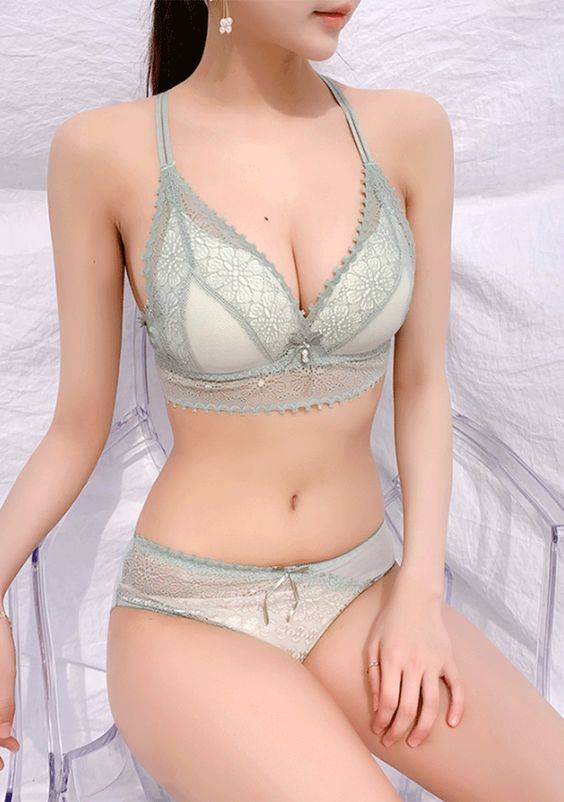 The Lace type bra is sensuous, and it just feels so great to wear this type of fabric on your body, especially when it's your lingerie.
---
7. Halter Bra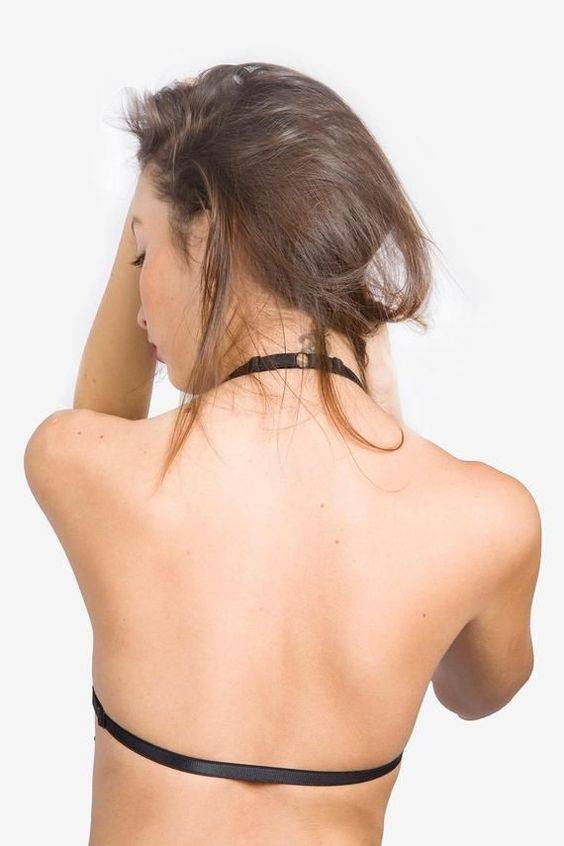 These all go perfectly well with your tanks, strapless dresses, tubes, or the racerback T-shirts. Most of the convertibles provide you a good choice of the clear strap, the cross-over back, or halter neck, so camouflaging those straps is just so easy.
---
8. Soft Padded Bra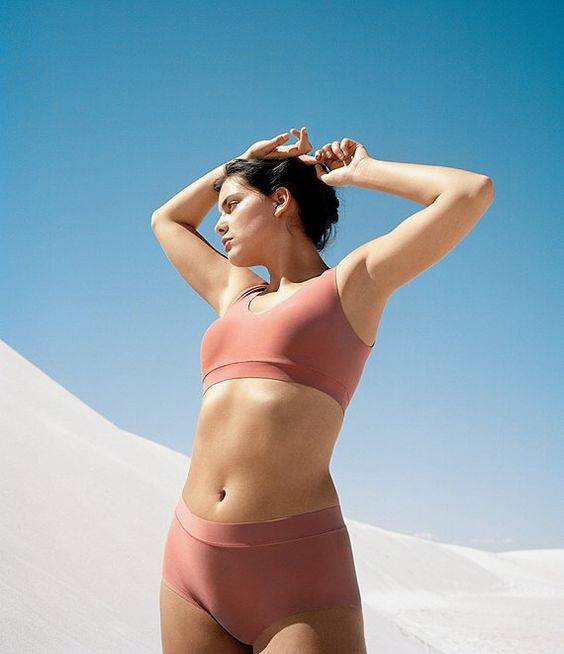 These are just a well rounded yet seamless and natural. Like the T-shirts, these are ideal under flimsy fabrics like shirts, satin tops, or dresses. You can get a range of options in these like soft padded, or padded, or underwired, etc., so go with something depending on your breast size.
---
9. Stick On Bra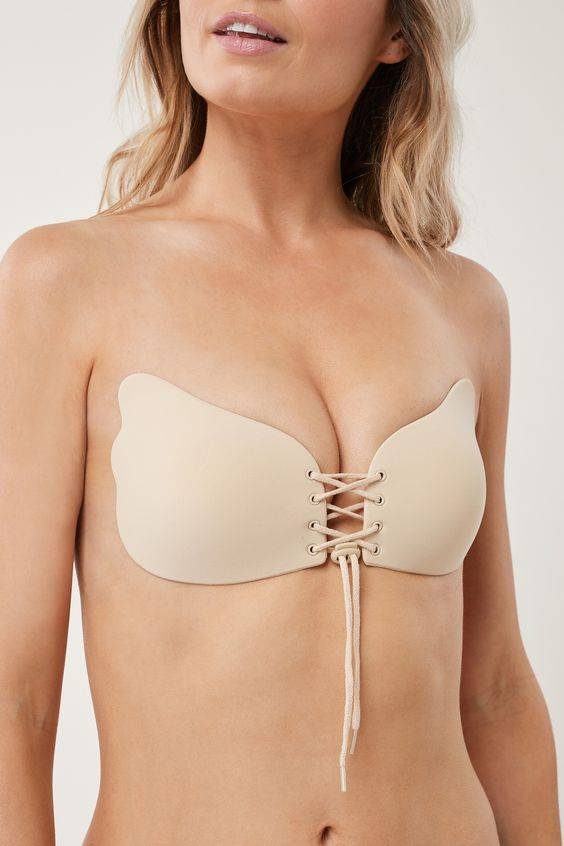 These silicon pads are quite adhesive sticks to your body and remain intact. It provides you enough nipple coverage, but it is not like the regular bras you wear.
---
10. Bandeau Bra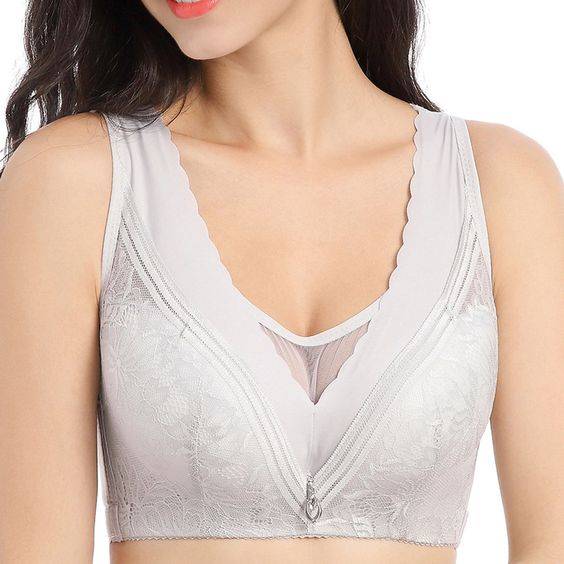 We all know of the tube tops, don't we? So, the bandeau bras work that way similarly. They need to be worn on your head and have no hooks to fasten them up. That is what makes these more comfortable. The support is properly taken purely from your breast and the shoulders, so ensure that you try them out to be sure it sits there correct way.
---
11. Shelf Bra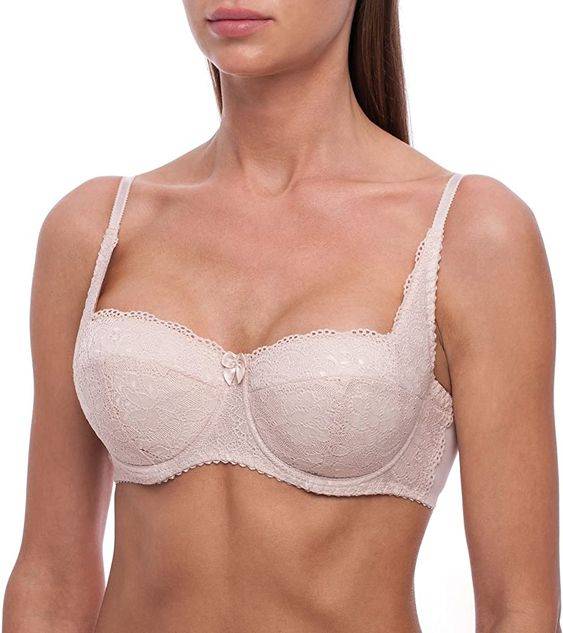 Unlike your regular bras, this shelf bra falls under the lingerie category; these do not provide you the nipple coverage. They usually come in fabrics like lace, satin, and tulle, which supports your entire breast but are transparent near your breast.
---
12. Balconette Bra
The underwired bras more often get that support from the bottom, offering very little coverage compared to the other bras that you wear. They are horizontal, like the demi bra that you have but are much fuller around your breasts. These also reveal the top parts of your breasts, so just keep this in mind and map it with all your dresses.
---
13. Longline Bra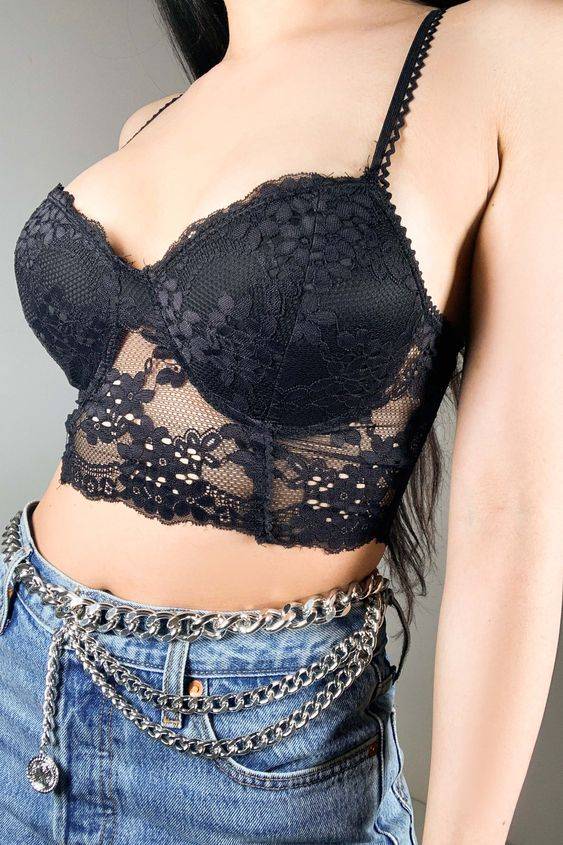 The longline bra extends till a little above your belly button or over it, and it depends on the brand. These all are usually snug and intact from the very start till the very end, thereby suitable for your body-hugging, evening wear, corset dresses, etc.
---
14. Sheer Bra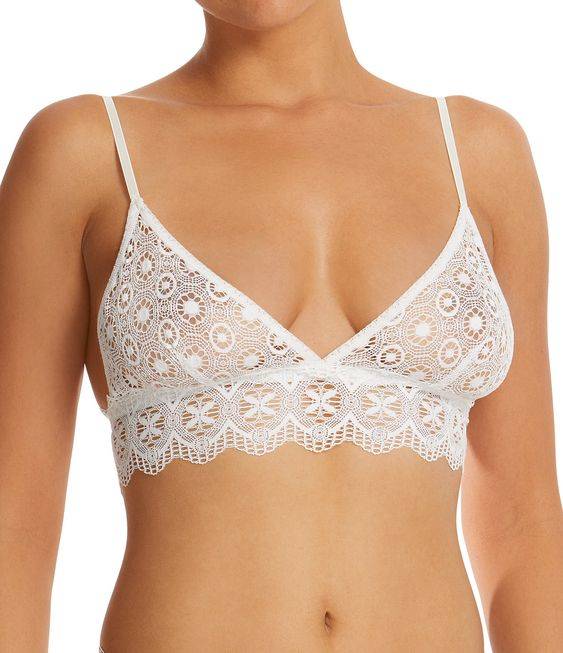 Sheer bras just show off your skin a little with the fabrics used on it. These are basically made with fancy materials like satin, tulle, lace, chantilly lace, etc. with convoluted designs that are supportive yet fashionable.
---
15. Racerback Bra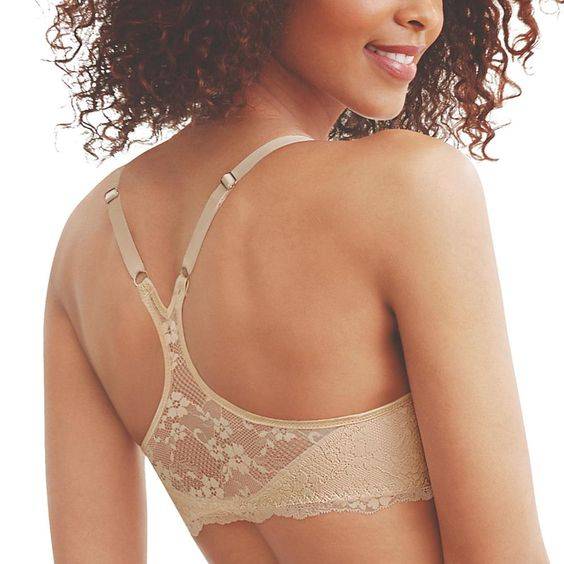 The bra hover's straps around your collarbone and not the arm, unlike your earlier regular bras that you have. These bridge a huge gap for the T-shirts, dresses, tanks, and tops with racerback necklines. The padded bras are comfortable and convenient during high-intensity workouts; either way, this is a bare essential.
---
16. Demi Bra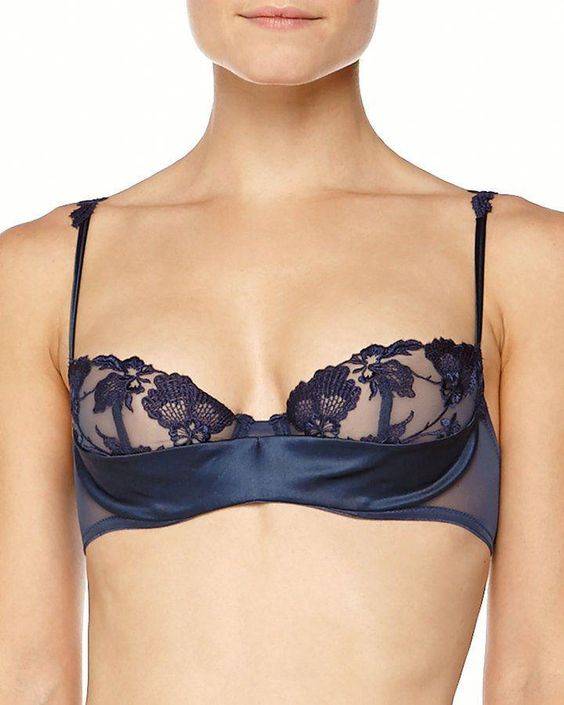 Demi bras are ideal for the smaller and your firmer breasts. These are a low cut with lesser coverage and smaller cup size. This all lends good support from the band and the underwire and makes it twice as important to choose the correct bra size.
---
17. Underwire Bra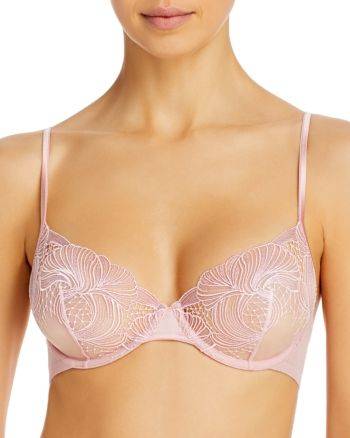 It is designed to provide strength and support to the breasts; these all come with an underwire at the bottom of the bra's cup.
---
18. Front Open Bra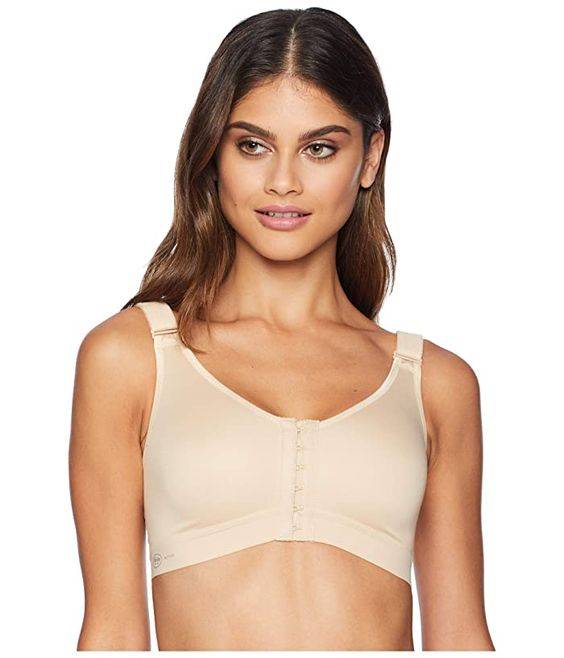 Women in their late 40s and early 50s prefer all these over the back open since they seem more convenient to wear.
---
19. Convertible Bra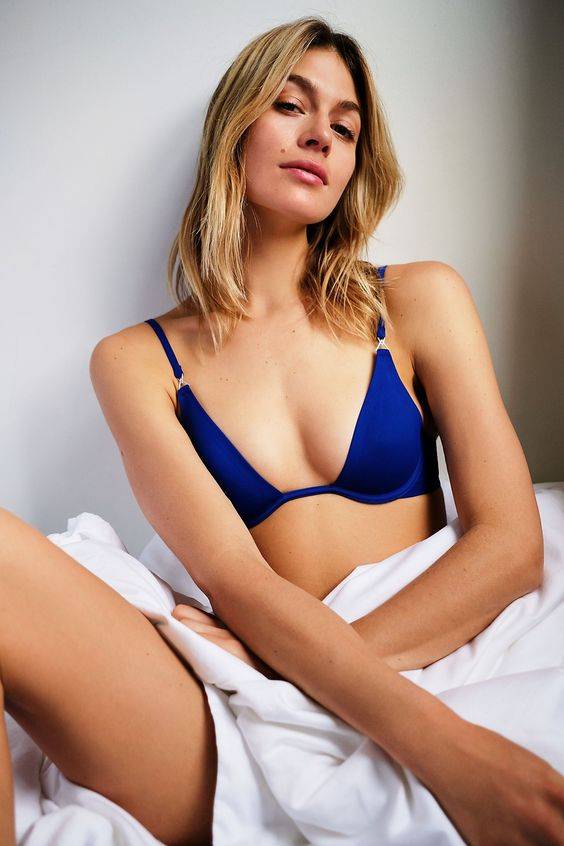 You have a good variety of combinations of the bras variety for the multi-way bras. They usually come with different strap sets, which converts it into the halter, racerback, or strapless, etc.
---
20. Bridal Bra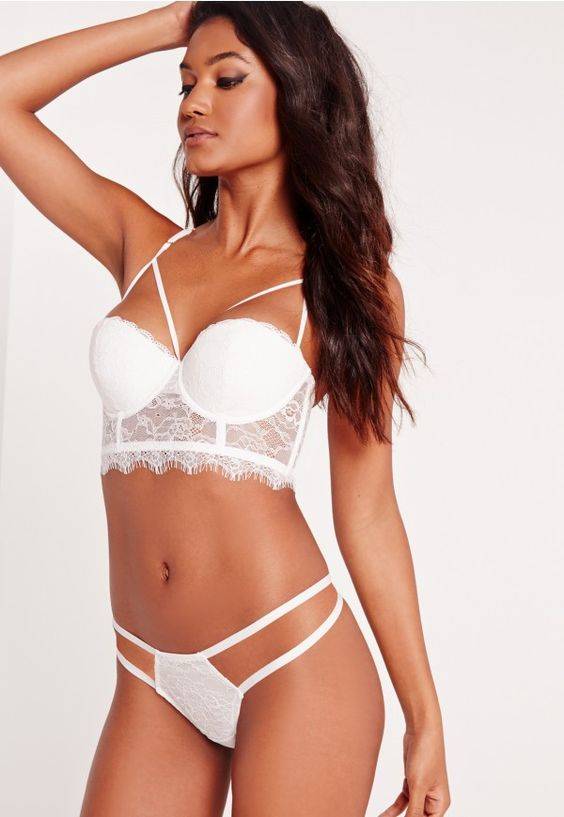 You just need to make sure that it is comfortable, go with your wedding outfit, and not turn out to be a peeping one. The lace and the satin are more preferable because they are seamless, light, and more comfortable.
---
21. Wireless Bra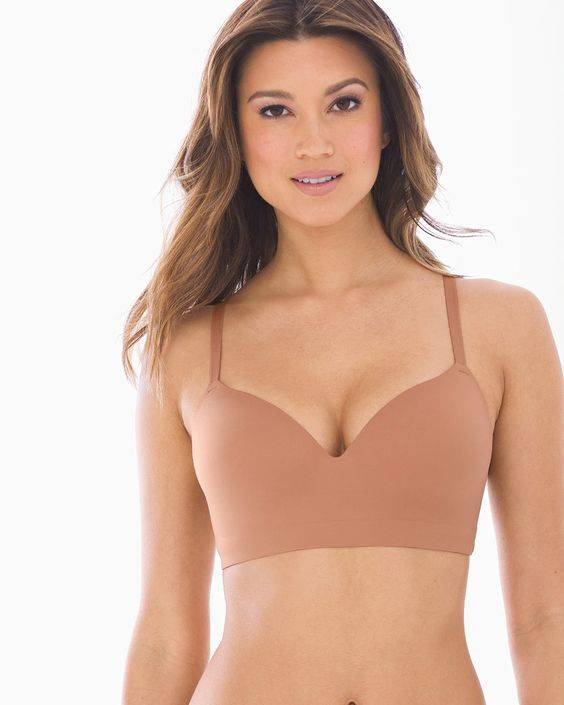 Wireless bras are often called the "soft cup" bras as they do not contain any rigid or hard piece of material.
---
22. Full Support Bra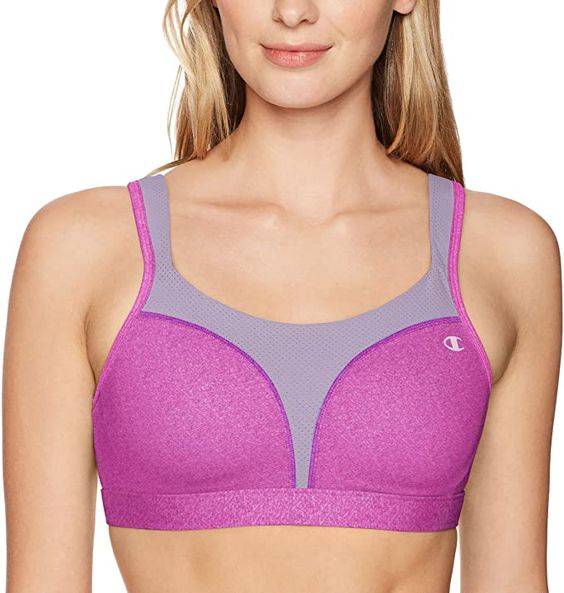 These full support bras provide you the maximum coverage. They all come in various patterns, fabrics, and designs, but the constant thing here is the full support these bras give you. These are ideal for those women who have big or sagging breasts.
---
23. Maternity Bra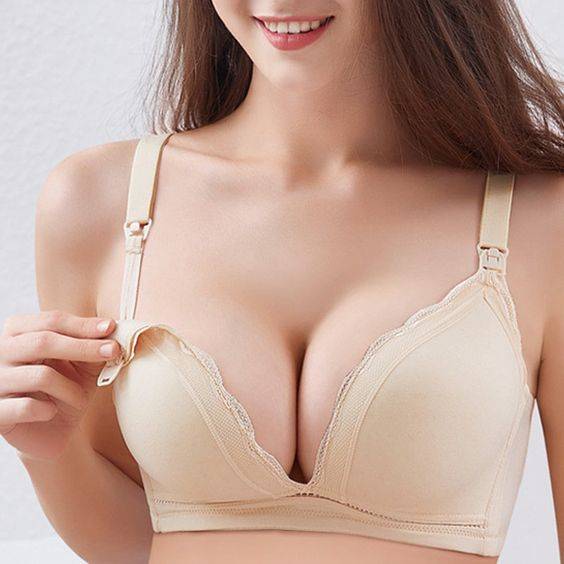 The first sign of pregnancy is sore breasts. As they enlarge as you progress, so prepping for the lactation. Moreover, it is critical for women to invest in good maternity clothing inside, out. Maternity bras are much smoother, also provides you the full coverage and hold the breasts intact.
---
24. Transparent Bra
We all need these bra transparent types with slight deep neck or tops which come in the noodle straps or sleeveless.
---
25. Silicone Bra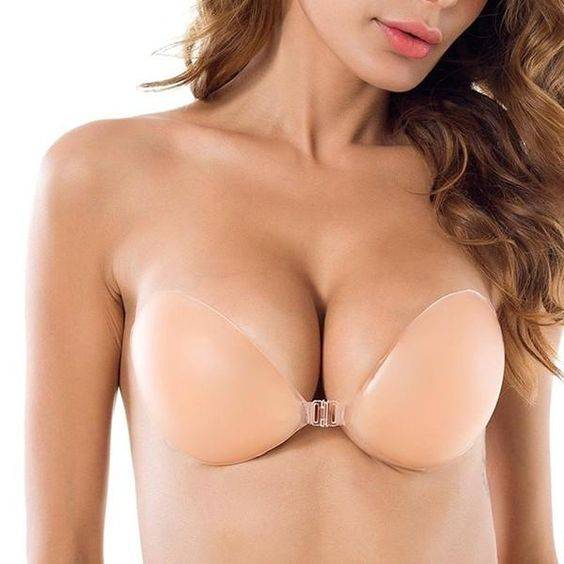 For the satin, ultra-light, or the see-through/backless dresses, these all are just perfect. Most of them are just reusable, soft, and comfortable.
---
26. Seamless Bra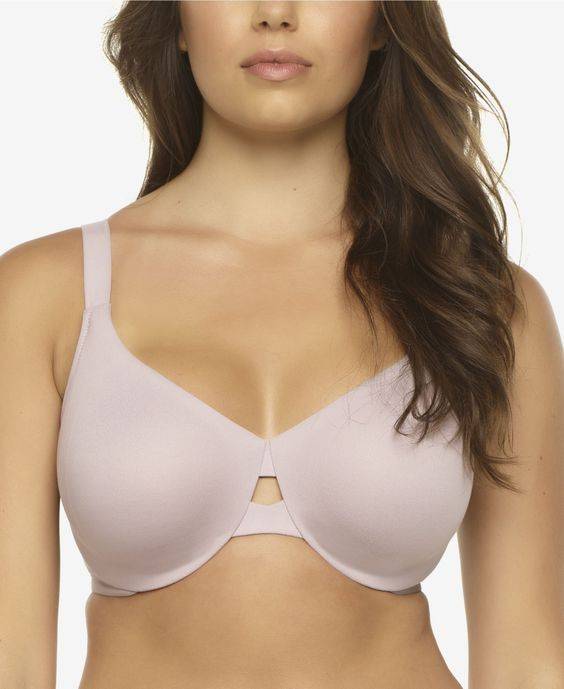 The fabrics are smoother, and the finish is neat and is also well supported.
---
27. Built-in Bra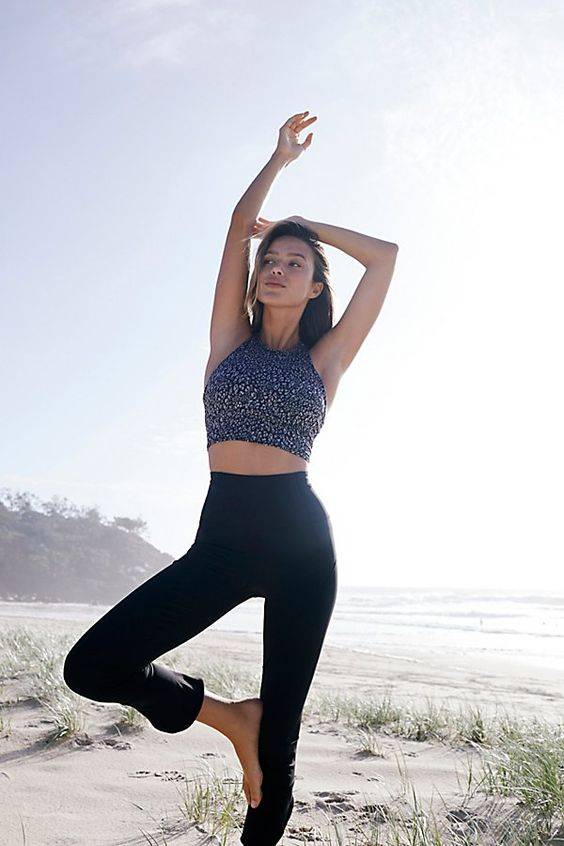 Built-in bra, the camisole or cami, these all are the same. It's basically a bra and a slip (tank) combined in one. Being a savior when you want to layer up or when you need to tuck your top away.
---
28. Plunge Bra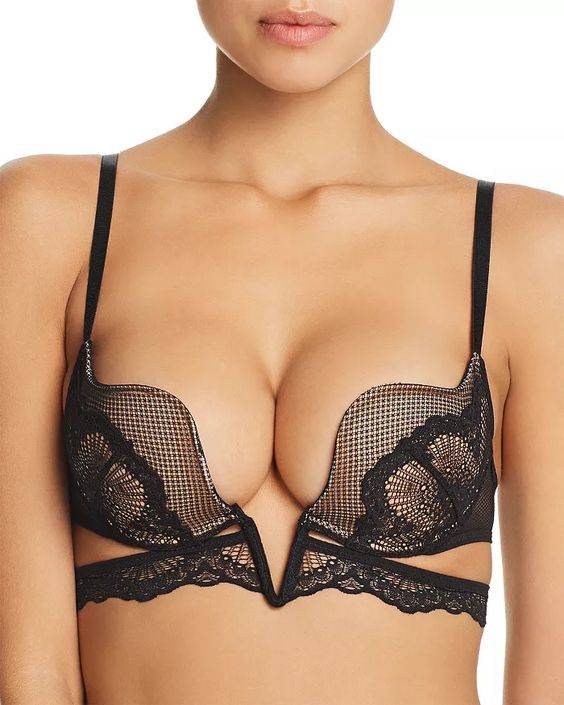 The plunge bras are all that you have always wanted as the struggle with the deep cuts, V, and now deep V-neck lines are so real.
---
29. Cup less bra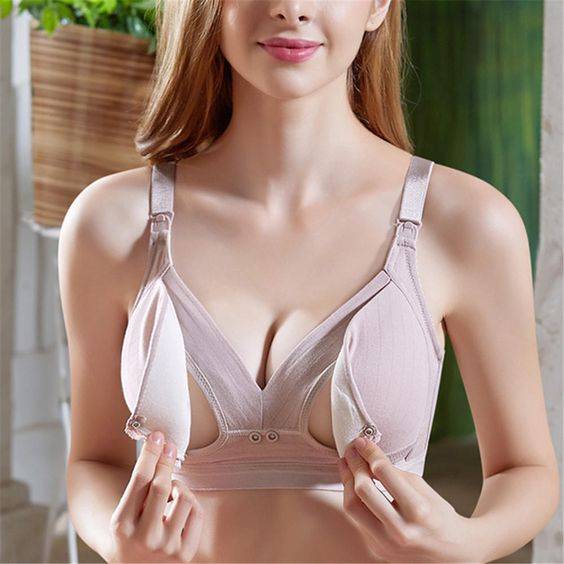 Some of them have a strap structure and literally the cupless; others have a negligible cup with an underwire, while the others just show the nipples.
---
30. Bralette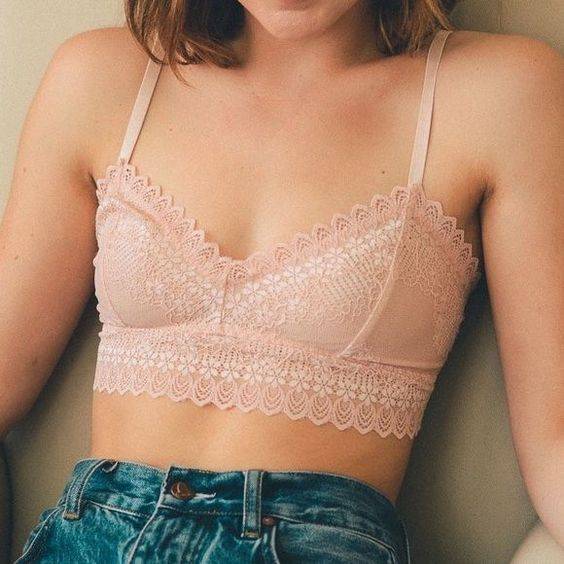 It is a non-wired, non-padded, and non-structured bra, and it just sounds so relaxing already. Plus, with the umpteen design choices you have in this segment, you will never feel like you are wearing any undergarments.
---
1. Breast type – If you have breasts that gravitate toward the outside of your torso, little pointing outward and leaving some space in the direct center of your chest.
Bra type – A T-shirt bra will give you all the shaping that you need.
2. Breast Type – Breasts are fuller than the East-West but still fall out little toward the sides of your body.
Bra type – A plunging style will surely help pull the breasts up and together.
3. Breast type – Breasts are slightly thinner from the top before rounding out to a curve.
Bra type – A full-coverage style that will shape your chest.
4. Breast type – Breast looks round and equally full on the top and bottom.
Bra type – A thin, unlined style, which offers you light coverage.
5. Breast type – As a small cup size, the breast is longer than wide.
Bra type – A plunge will surely help the center and lift the breasts.
6. Breast type – Both the breasts are not of the same size and can be asymmetrical in shape.
Bra type – A style with removable inserts that will allow you to even out the chest.
Are there the types of Bra – you would like us to add in this list? Tell us in the comments.