Capricorn and Aries compatibility is tricky because their relationship does not appear peaceful at first look. However, couples can be a good fit if they work hard to smooth out their imperfections.
After analysis, Capricorn and Aries compatibility percentage is a healthy 60%. They both have very strong and fierce personalities, and they will climb any mountain together with their dedication.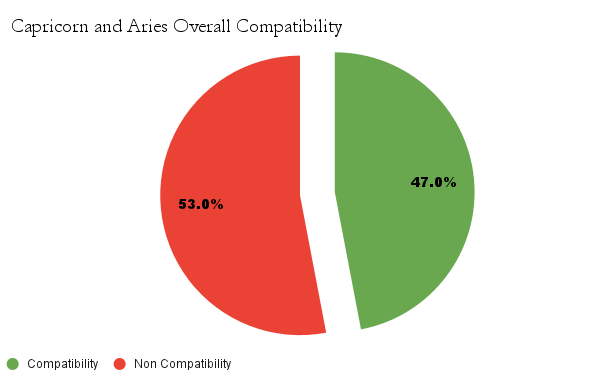 Capricorn Man and Aries Woman
Capricorn men might be secretive because they are private person. These men are sometimes dominant, but it won't be a problem because they always prioritize their girls.
Aries women are charming, polite, and have a good sense of humor. She is full of enthusiasm and believes in equality. Hence Capricorn and Aries compatibility appears to be positive.
---
Recommended Post –
---
Capricorn Woman and Aries Man
An Aries man keeps themselves above everything else. However, once they get committed, they put their soul into the relationship.
A Capricorn woman is emotional and practical at the same time. A Capricorn woman respects the personal space of an Aries man.
They help each other grow at the individual level. Aries and Capricorn match at ground level because of some similar personality traits.
Capricorn and Aries as Friends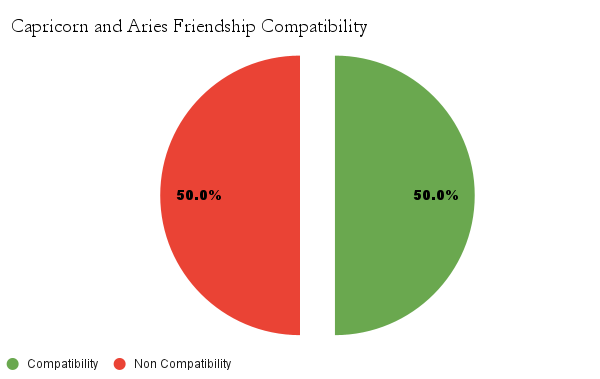 Capricorn and Aries compatibility friendship is quite high, which can sometimes lead to discomfort. Although it is not very common and they can communicate their difference.
They should learn to let go of things and hold no grudges. Aries and Capricorn's friendship can bloom or fade according to how well they manage their differences.
---
Recommended Post –
---
Sex between Capricorn and Aries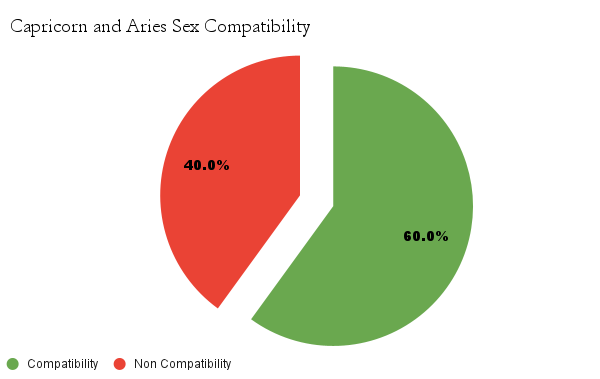 The sexual compatibility of Aries and Capricorns might be tough to understand since they lack sexual drive. Aries is willing to experiment in bed, but Capricorn is vigilant and needs things to be done in a specific manner.
However, they may benefit each other if they have strong communication.
Capricorn and Aries in a Relationship
A Capricorn needs to feel wanted and adored, while Aries wishes to be respected and heard in the relationship. So Capricorn and Aries compatibility love might be a bit odd! They are not a perfect fairy tale couple but a practical one.
They don't desire a cliché relationship but a fully-fledged and accepting bond. Capricorn and Aries are not serious at first, but they put their heart into the relationship once they get settled.
Capricorn and Aries in a Marriage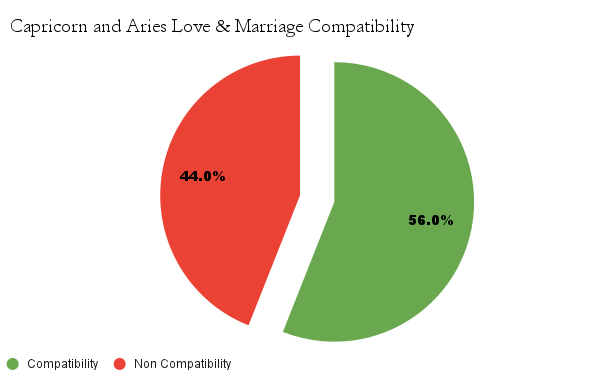 Capricorns are faithful, and they put a lot of trust in marriage. Aries may be outspoken, upfront, and aggressive, which can test Capricorn's patience.
However, they bridge the gap with their dedication to each other. Capricorn and Aries marriage compatibility allows them to flourish and develop professionally; they are the first person to applaud each other's success.
---
Recommended Post –
---
Capricorn and Aries at Workplace
A professional partnership between an Aries and a Capricorn might be difficult. They must work hard to guarantee that their strengths are directed in the same direction.
Conclusion
When combined, this fire and earth alliance may overcome any obstacle. Capricorn and Aries compatibility is not very powerful. Calm Capricorn will struggle to get along with reckless Aries. However, there is always space for growth.