The charming captain of the Indian cricket team, Virat Kohli, is not just a talented cricketer, but he's a global fashion icon as well. With his impeccable taste and style in fashion, there's no doubt that he's surely conquering the hearts of everyone worldwide. Here are some top hairstyles of Virat Kohli that we absolutely love. If you're wondering about how to get a Virat Kohli hairstyle for yourself, you are in the right place.
Recommended Post
Here are the best Virat Kohli hairstyles and Virat Kohli hairstyle names that you need to check out at the earliest: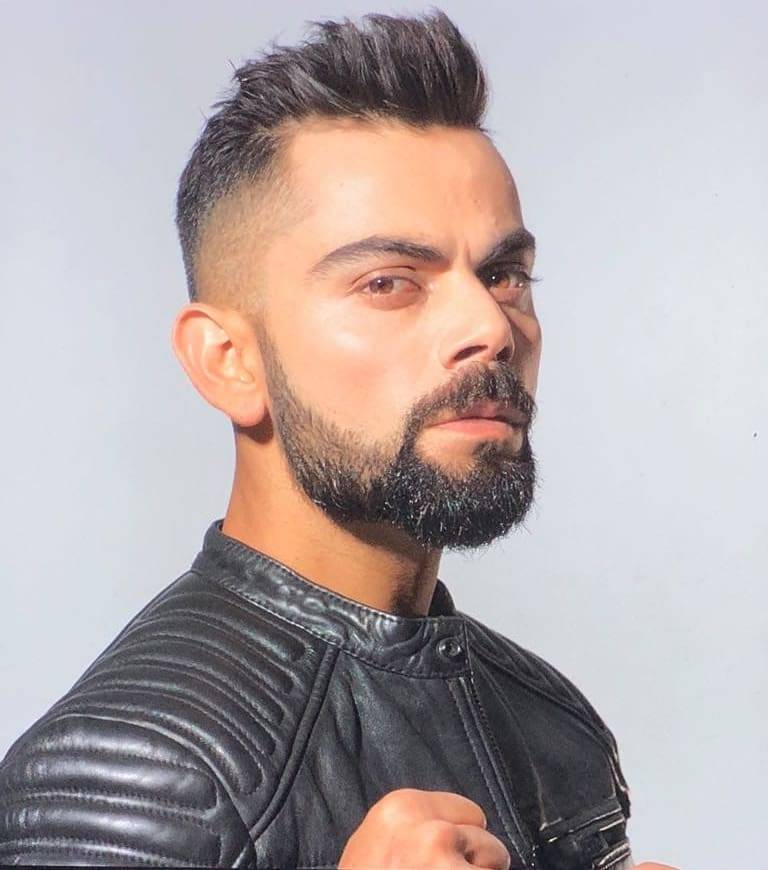 Virat Kohli's Faux Hawk Hairstyle appears to be the most daring style among others, as this hairstyle does not go well with every face, and you need to be very careful while opting for this look. But, sometimes, it turns out to be a quite cool cut.
---
Another of Virat Kohli's well-known looks is the super short crop hairstyle. If you are looking for something simple and clean, then just go for this cut. Here, the hair is super short on the sides and a bit spiked in the middle that'll give you a neat and clean look.
---
Virat Kohli's spiked hairstyle with some design on the side will give you the absolute jazzy look. Moreover, this will surely make you look different from the crowd.
---
The messy hairstyle is one of the rarest looks of Virat Kohli but turns out to be a great style. In fact, this is one of the easiest looks as you just need to run your fingers through your hair a bit, and it is a complete yes if you are looking forward to it. For similar messy hairstyles, check out Kartik Aaryan hairstyles.
---
Virat Kohli's crew cut is the one that you must definitely go for in the summers. This is the most classic and easy-to-maintain hairstyle that you go for without any fuss.
---
Captain cool looks totally dapper in this short and faded undercut style. He is also featuring some of his greys as well and shows how even grey hair is currently trending and in fashion.
---
If you are looking for the best Virat Kohli hairstyles images to find the most suitable style for your hair, you need to try out this style where Virat looks amazing even with the beard. Making it a brilliant combo, you can wear this hairstyle for any type of outfit and simply own your style.
---
These Virat Kohli short hairstyles are always looking great, and we love how Virat has styled his short hair, as shown in this picture. The undercuts on both sides perfectly accentuate his face and thereby make it more structured.
---
This modern Virat Kohli hairstyle cutting is one of his best looks, and it's the kind of hair you get after a fade, and your hair starts to grow out. For similar short and modern hairstyles you can check out Vicky Kaushal's hairstyle.
---
This back-side hairstyle is stunning and would look great with any outfit he has. It isn't difficult to attain this because all you need is a sense of style.
---
This is definitely one of Virat Kohli's best hairstyles where he features a low fade that just looks too charming.
---
Looking for a side hairstyle just like Virat Kohli hairstyle side cut? Then surely you can check this out. If you have a round face, try this hairstyle to make your face look more chiseled and structured.
---
This is one of the Virat Kohli hairstyle latest trends, and it surely is great. He went for a high fade with a line to separate the hair. The line also gives the style a lovely distinctive texture.
---
Virat Kohli's hairstyles are typically immaculate, and this quiff style is no exception. This haircut is not only stylish but also a little badass, making it look extremely cool. It also perfectly matches the Virat Kohli hairstyle and beard style.
---
Recommended Post
This short quiff haircut perfectly balances his looks, and if you want to replicate it, all you have to do is outgrow your short hair and style it as he did. It does not necessitate a lot of effort. This is one of Virat Kohli's latest hairstyles, 2021.
---
His style quotient is perfectly balanced by this mid-high fade and his thick beard. And if you want to copy this look, all you have to do is style your hair in a high fade that will make you look dapper.
---
Virat Kohli's comb-back short hairdo drew a large fan base, particularly among girls. The biggest plus is that he's grown a great beard that goes perfectly with this look.
---
This is without a doubt one of Virat's best hairstyles, and he looks especially sultry in this medium messy appearance. The sides aren't fully faded, which gives it a beautiful appearance.
---
This short to medium messy style, which is typically replicated by most boys and young men, is here to steal our hearts.
---
With the Indian captain's most frequent haircut being this short fade style, we admire Virat's ability to maintain it modern and attractive while remaining minimal.