If you're wondering what is Kartik Aaryan Hairstyles called? Don't worry, we have got you covered.
Who doesn't love Kartik Aryan, the charming heartthrob of Bollywood who has made everyone around him fall in love with him?
Recommended Post – Prabhas | Allu Arjun | Yash | Nani | Dhanush | Mahesh Babu | Vijay Devarakonda | Thalapathy Vijay
His charming smile, those good looks, and his actions are surely a bar higher, and people love him for all the right reasons as for the fashion enthusiasts and style lovers who follow him, they are absolutely in love with these outfits and not to forget his Kartik Aaryan Hairstyles.
Pro Tip
Here are some of the Best Kartik Aaryan Hairstyles to be flaunted:
Accessories to the Rescue
Kartik Aaryan's accessories to the rescue style is a complete dashing young man look. Just adding a band to your hairdo can give an almost different stud look that you must try, especially with bangs.
---
The Bun
Kartik Aaryan keeps his style simple with a bun. So if you have trouble setting your long hair, just tie it as a bun in Kartik Aaryan's style, making it simple and elegant. For similar bun styles you can check out Vidyut Jammwal hairstyles and Bhuvan Bam hairstyles.
Recommended Post –
---
Pompadour with Beard
Pompadour with a beard is yet another exclusive hairdo that Kartik Aaryan has nailed. He looks absolutely gorgeous in this style. You just need some gel to set your hair in a pompadour style, and it looks even better with a beard. For similar pompadour hairstyles check out Hrithik Roshan Hairstyles and Ajay Devgan Hairstyles.
Recommended Post – Chiyaan Vikram | Ajith Kumar | Akhil Akkineni | Jr. NTR | Ram Charan | Ravi Teja | Naga Chaitanya | Dulquer Salman
---
Long Hair
Till now, it is obvious that Kartik Aaryan definitely nails every look. His long hair is absolutely stunning. Men of all ages can try this out by combining it with an ethnic outfit. For similar long wavy hairstyles check out Shahid Kapoor hairstyles and Akshay Kumar hairstyles.
Recommended Post –
---
Messy hair updo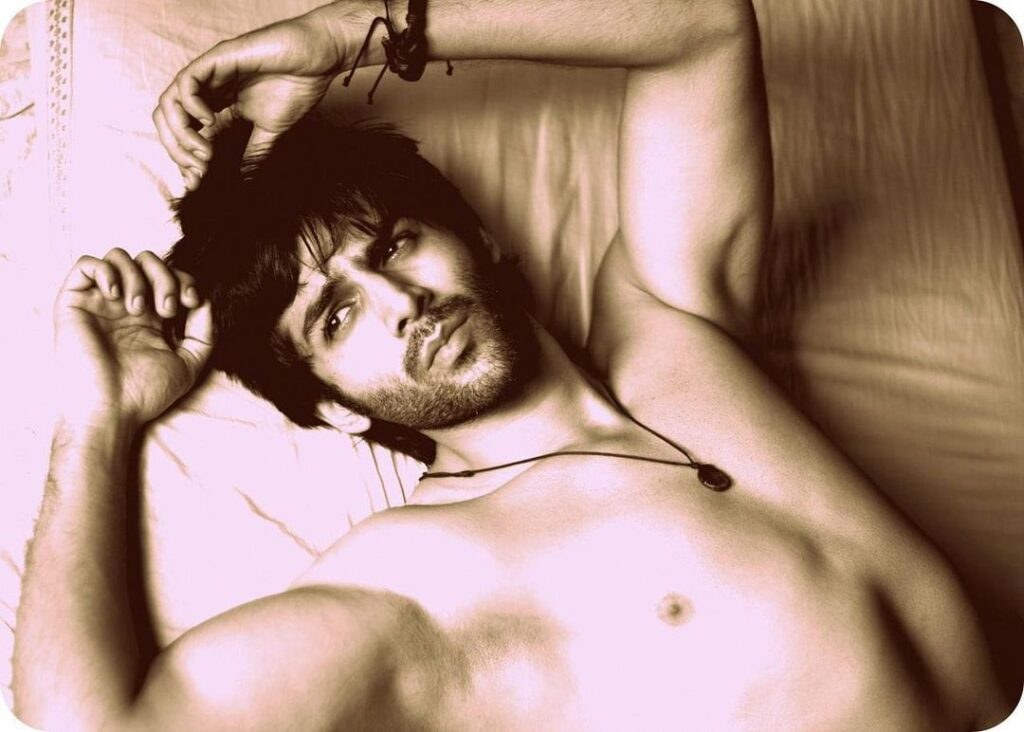 Nothing makes a man sexier than a laidback look with messy hair. We totally love this messy hairstyle that gives Kartik a very charming look. This new Kartik Aaryan new hairstyle which he debuted only recently on Instagram, is sure to be loved by many boys and gentlemen. For similar messy hairstyles check out Milind Soman Latest hairstyles.
---
Ruffled hair with light brown highlights
As much as the beauty of pure black hair cannot be replaced, adding some highlights here and there doesn't harm; that's why these light brown highlights look amazing. This Kartik Aaryan hair color name is light brown or caramel highlights.
Hollywood Celebrities' Hairstyles – Leonardo Dicaprio | Johnny Depp | Will Smith | Tom Cruise | Henry Cavill | Jake Gyllenhaal | Liam Hemsworth | Paul Rudd | Brad Pitt | Timothee Chalamet
---
Long wavy hair
Any hairstyle suits this Bollywood charmer, and that's quite evident in how he is rocking this long hairstyle look. It looks perfect, combining it with his desi look, and can be tried out by men in all age categories. This Kartik Aaryan long hairstyle is totally worth flaunting and will make you the star of the show anywhere you go.
---
Old school Gentleman hairstyle
Looking for that old-school look that will set you apart from the rest? Are you a fan of Kartik Aaryan, and were you looking for Kartik Aaryan hairstyle images on Google to replicate the same style? Well, look no further because this classy and laidback hairstyle is all you need to get back to your charming self.
Hollywood Celebrities' Hairstyles – Leonardo Dicaprio | Johnny Depp | Will Smith | Tom Cruise | Henry Cavill | Jake Gyllenhaal | Liam Hemsworth | Paul Rudd | Brad Pitt | Timothee Chalamet
---
Love Aaj Kal hairstyle
Who didn't love the Kartik Aaryan hairstyle in Love Aaj Kal? Everyone was so smitten by his acting and his looks as well.
If you're looking to get your hair makeover, try out this super cool and trendy hairstyle that Kartik sported in his hit movie Love Aaj Kal. That wavy ruffled look is all you need to fall in love.
---
Curly messy waves
Yes, straight wave and curly hair both look fabulous on this amazing guy, and we surely can't get enough of this lovely hairstyle where he flaunts a curly messed-up look. Pair it with your casual outfits, and you'll surely look the best.
---
Edgy hairstyle
To get this edgy hairstyle, simply style your hair in a way that differs from the standard cut. You can also wear your hair medium on the sides and back while wearing it long at the center.
---
Casual hairstyle
We all love a casual hairstyle that makes us look effortlessly classy and dapper. If you are searching for a classy hairstyle, try out this one. Hair on the sides should be kept short, while the hair on top should be kept medium-sized. This will give it a semi-messy appearance.
---
Natural charm hairstyle
Use proper hair products to give your hair a controlled, messy, yet clean look is key to achieving that natural charm. All you need are gel, pomade, and other hair styling products that add shine and texture to your hair to achieve this look. This haircut also requires very little upkeep.
---
Choppy hairstyle
A choppy look can take you places. This choppy style is hot right now, especially among young males. Simply trim your hair symmetrically or asymmetrically to achieve this appearance. Keep the hair short at the sides while long at the top and textured.
---
Long and messy wave hairstyle
Keeping hair short on the sides and long on the top, especially in the front, you can get this long wavy style. The hair in the front is styled in a high way, giving it a lot of volumes.
---
Fresh summer look
Here's a look to get you all set up and handsome for summer. Simply go for a short, easy-to-maintain hairstyle like Kartik's in the photo. Make sure to keep the sides of your hair short and comb over the middle.
---
High pomade look
A high pomade look can give your hair much volume and texture, which is one of the best hairstyles for thick hair.
---
Rocking hairstyle
An amazing style for long hair; simply keep your hair short on the sides and medium on top to achieve this style. You may achieve the slicked-back look by applying a lot of hair styling products like pomade or wax, which will make your hair look greasy and leathery.
---
Sexy ruffled look
Kartik looks absolutely gorgeous in this sexy ruffled hairstyle. All you need is some gel to set your hair in this messy manner, and your look is ready. Best suited for long hair.
And finally, we have the Kartik Aaryan hairstyles. In this simple and sporty hairstyle, his hair is just grown out long enough to be parted to the sides, but he wears it on the top to make it look more appealing.
Top 150 Kartik Aaryan Hairstyle Photos
Conclusion
If you are someone who loves natural-looking hairstyles, then you should definitely try this one out.