Shahrukh khan's hair is fine textured and looks stunning even at age 56. His hair is extremely glowing and catches everyone's attention real quick. Shahrukh Khan Hair Care Routine is all-natural.
He seems very attached to his hair's smooth texture, making him run his fingers through his hair. Of course, nobody can resist doing so if they have fine hair. Shahrukh khan's hair color choices are usually from dark brown to natural black.
Hair plays a major part in framing your hair. A good hair care routine will give you the best-looking hair. Let's check out some pro tips from SRK too.
Recommended Post – Shahrukh Khan Hairstyles
Let's check out Shahrukh Khan hair care routine.
Does Not Use Any Artificial Products
Shahrukh Khan has revealed that he only uses water to rinse his hair and doesn't use shampoo and nothing artificial for even styling his hair. He prefers not to use any artificial products on his hair.
Stay Hydrated
Shahrukh Khan's hair look has changed for ages; even with all the styling done on the film sets, his hair is so fine. He always tries to stay hydrated, which will be the key point for his glow. Sharukh khan's shampoo routine is once in three days; he puts in as much moisture as he can provide to his hair.
He uses mineral water to keep his hair hydrated
He says he only uses mineral water to keep his hair hydrated. Shahrukh Khan hair cuts usually change for promotion ads, which is a big task. He went for blonde streak highlights that were absolutely awesome for his cute ponytail.
Regular Trimming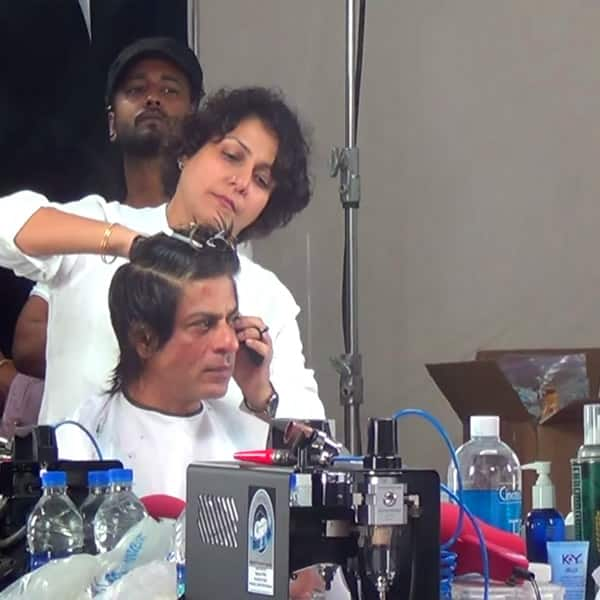 He used to have a clean shave for his beard look earlier, whereas he now prefers a short beard with regular trimming. Clean trims will hype up your hairstyle very much.
Don't Use Shampoo and Nothing Artificial
He also spoke about the benefits of not using shampoos and anything artificial on hair. He says it might take time to rinse off the grease using only water, but this is the best way to keep it natural.
Going all-natural with His Haircare Regime
SRK revealed that going for natural hair care remedies like masks and oils will prevent hair fall and hair damage.
Tips to Getting Sleek Hair As SRK
Herbal Shampoos and Natural Oil Conditioners
If you are considering switching to better alternatives like Shahrukh khan, you can use herbal shampoos and natural oil conditioners. Check out these safe homemade alternatives below:
Many shampoos advertised and promoted as herbal can still cause damage to your hair, instead, use soap nuts as shampoo.
Simply soak 4 to 6 soap nuts in hot water for 3 to 4 hours; this will smoothen the hard core of the nut.
Use your fingers to produce lather from the soaked nuts by rubbing them between your palms for cleansing. You can also soak them all night for more foaming.
This has been in long-term practice from the Vedic Indian period, known for its hair cleansing and strengthening properties.
For a natural conditioner, you could apply oil to your hair. You can use any oil you prefer; olive and coconut oil will give the best smoothness and condition your hair.
If you are not someone who leaves oil on hair for a longer time, consider wrapping a hot towel after oiling the hair.
Leave it for 20 mins and wash with natural shampoo for better results.
You can also use ACV as a conditioner too.
For a natural hair gel, you can use flax seeds gel to style your hair as an alternative to hair gel used for styling.
Add a spoonful of flax seeds to a bowl of hot boiling water and leave it for 20 mins.
After it gets cooled, separate the seeds from the gel and store them in a container.
Mix the gel with water and use it as normal hair gel daily. This strengthens the hair and improves its texture of the hair too.
Conclusion
Shahrukh Khan strongly believes that going all-natural with his hair care regime will prevent breakage and damage to his hair. Moreover, it costs you way less than chemical-infused hair products too! So why not try to get natural?