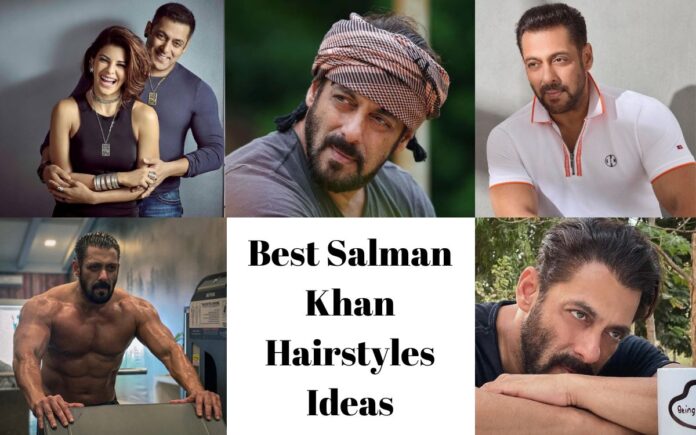 Apart from acting like Salman Khan, it is time to get inspired by Salman Khan hairstyles. "Bhai" surely knows how to keep his hair maintained.
So let's have a look at some of best Salman Khan hairstyles till now.
A perfect look for a hot summer day. Salman Khan is totally killing the bandana look. We can't help but notice how handsome he looks here.
The checked bandana print is very classy and subtle. It's a great way to style hair when he has long hair and wants to keep them back.
Recommended Post –
Salman Khan's attacked us with his cuteness with his short haircut. His beard is definitely matching his short hair look.
As it's a casual look, he wears a simple t-shirt and jeans. This can be the trending style for college boys nowadays.
Salman Khan has a small face shape, so his turban look is totally working here. It makes his face look tall when in reality, it's small.
This must be one of his looks for a movie shoot, as it looks amazing on him. Also, it's a great way to keep all of his hair in one place.
Recommended Post –
Apart from his dashing body here, Salman's hairstyle took our attention. His wet hair look makes him look very handsome here.
He must be working out or something because he looks all sweaty. Wet hair makes his hair shine in this sweat.
We got hungover just by looking at Salman Khan's buzz-cut hair. It just suits his face so much. His clean, shaved look keeps all the focus on his hair only.
Buzzcut gives him sort of a decent college boy look. A black earring on one ear is giving him a badass look too.
Recommended Post –
This is one of the Salman Khan hairstyle photos we can't stop staring at. He looks so hot in this long bangs hairstyle. We must say these long bangs totally suit his cute face.
His full beard adds to his bold look.
Salman Khan hairstyles in tere naam were just out of the world. The center partition with bangs falling on each side was just awesome.
He looked like a total badass in the role of "Radhe". This hairstyle totally suited his bold character in the movie.
Recommended Post –
Yes, Salman Khan looks as handsome without hair as we look with hair. Only this guy can pull off a bald look in style.
His goatee beard is definitely giving him a don look.
One of the best things about Mujse Shaadi Karoge movie was hairstyles of Salman Khan. His medium haircut with wispy bangs matched his clean, shaved look.
The hairband totally suits Salman Khan long hairstyle. It's a great way to keep all the hair neatly swept back without frizziness.
Who knew that a guy could pull off a ponytail such handsomely? Salman Khan has won many hearts with his ponytail look. He looks a charming gentleman in this hairstyle.
Tell us which of the above hairstyles you have noticed on Sallu Bhai before. Of course, only true Salman Khan fans have seen all the hairstyles before.