A few years back, online dating seems to be a new concept, but with time it became quite prevalent. Especially during the pandemic and after that, online best dating apps in India became the most practical way for most people to find matches or dates, which turned into serious relationships.
Thus, the market also started flooding with various dating apps, some are great but not all.
Thus, we have created a list of dating apps in 2022 after testing and trying them. These dating apps are free and can help you find romantic partners.
List of best dating apps in India 2022 –
Instagram
While Instagram is not like other traditional dating apps, it certainly can be used as one. With Instagram, there isn't an instant need to find a serious relationship.
It is more of a spontaneous; anything can happen type of app. Once you find someone's profile interesting, you can start chatting with them. You might wonder how to DM a girl on Instagram, or how to impress a girl on Insta you don't know.
Well, you can start by replying to her stories or commenting on one of her pictures. Talk about common followers, or just simply introduce yourself and know more about how to get your crush on Instagram?
---
Tinder
One of the most well-known dating apps is Tinder. Tinder is perfect for youngsters looking for a serious or short-term relationship. Tinder comes with a lot of fun interacting features, such as Swipe Night, which gives your dating experience a new feel. But, you might wonder how to use Tinder like a pro or how to DM a girl on Tinder. Well, all you have to do is be yourself, start a conversation, and you will get matches in no time.
---
OkCupid
OkCupid is one of the best dating apps, courtesy of its huge database and dating tools. So, how to use OkCupid free? First, install the app on your phone.
Their innovative Flavors system then finds potential matches such as Beard Lovers, Kinky Nerds, World Travelers, etc.
---
Snapchat
Snapchat is another platform where you can find new friends, and in some cases, a serious relationship.
You might wonder, what is the best thing to DM a girl? How to talk to a girl on Snapchat? How to flirt with a girl over Snapchat?
First, swipe right from your Camera screen. The chat screen opens up. Then tap at the top, search for you friend and add them. Voila, you can now start chatting with a new person.
---
Match
Match.com, popularly known as Match, is one of the best dating apps for singles looking for a serious relationship. So, you might wonder how Match dating app works?
It comes with a user profile builder which helps you create your account. With their premium membership, you also get access to features such as Instant Messenger and video chatting.
With over 8 million users worldwide, Match claims that you will get a match in less than six months.
---
Bumble
Bumble is an app focused on women's safety. Here, the women have to make the first move. Designed to make online dating more comfortable while also offering excellent privacy and safety features.
Moreover, bumble also has many advanced filters that help you find the type of partner you are looking for. It is one of the best dating apps India currently supports.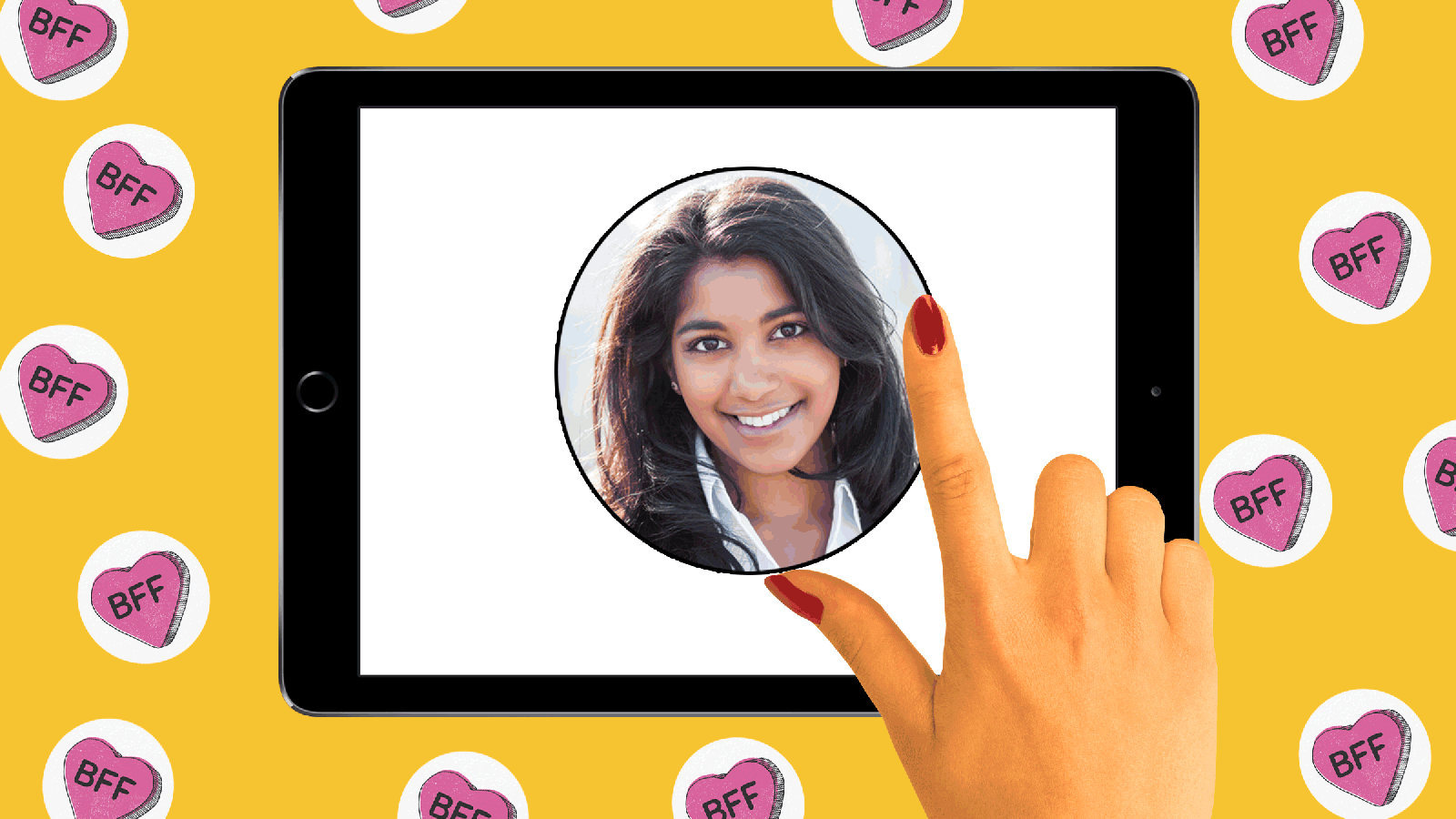 ---
Facebook Dating
The tech giants entered the online dating forum with Facebook Dating, which was first revealed in 2018. Initially launched in the US, the service is now available in Europe, including the UK.
The app helps users find long-term relationships by finding matches based on their preferences, interests, and activities on the Facebook app.
---
Pro Tip: How to Get Your Crush on Instagram
Pro Tip: How to DM a guy on Instagram
---
Grindr
Grindr is one of the best dating apps for gay and bisexual men. The app finds similar matches based on your profile and your type.
You can instantly find other users and start chatting with them in a short period.
---
eHarmony
If you are looking for a serious relationship app, eHarmony is one of the best out there. The app has a very high success rate and is geared towards marriage-minded millennials.
Here, the app provides a questionnaire that delves deep into your character. Then, their algorithm pro-vides suitable matches for you.
---
Hinge
Another app aimed at millennials is Hinge. However, unlike eHarmony, it is more of an instant gratification type of app. Hinge has one of the highest statistics for second dates, making it one of the best serious relationship dating apps.
With the help of their unique algorithm, Hinge can provide a limited scrolling option with the best matches for you.
---
Snack
Snack is the dating equivalent app of TikTok. Like TikTok, Snack places a lot of emphasis on short videos. After taking a look, you can DM a person if their videos spark your interest.
Snack is very popular amongst people under the age of 30. However, Indian users are up for a disappointment as the app is not available in India.
---
Her
As you might have guessed from the name, Her is a platform only for queer women. It is one of the best dating apps for lesbians. With a database of four million users, the app has many cu-rated groups, such as women of color.
The profiles also tend to be to the point, which easily helps you find the right person for a serious relationship.
---
Kippo
Available only in the USA and Canada, Kippo is the acting app geared towards gamers. Kippo helps gamers find their perfect match by comparing the games that the users play and like.
Moreover, you don't have to worry about being catfished as the app verifies that a person is a real person.
---
Badoo
Another popular app that ensures that there are verified people is Badoo. Like Tinder, Badoo uses the help of a swiping system for matching users.
Available in more than 190 different countries, it is one of the best dating apps that you can use for free.
Conclusion
This is the list of best dating apps in India. Which one are you using now?