Bangs with layered haircuts are a popular demand these days. Women love layering their hair, as it gives them a fuller look. Bangs will look good on all face shapes and offer a balanced look. A layered haircut with bangs will leave you with the most flattering looks ever.
Be it a shaggy or sleek style, these layered haircut types will always make you feel awesome.
Let's have a look at the list of layered haircut bangs hairstyles for women
Find Hairstyles as per your face shape – Oval Face Hairstyles | Round Face Hairstyles | Square Face Hairstyles | Heart Face Hairstyles | Oblong Face Hairstyles
Subtle Waves With Sparse Bangs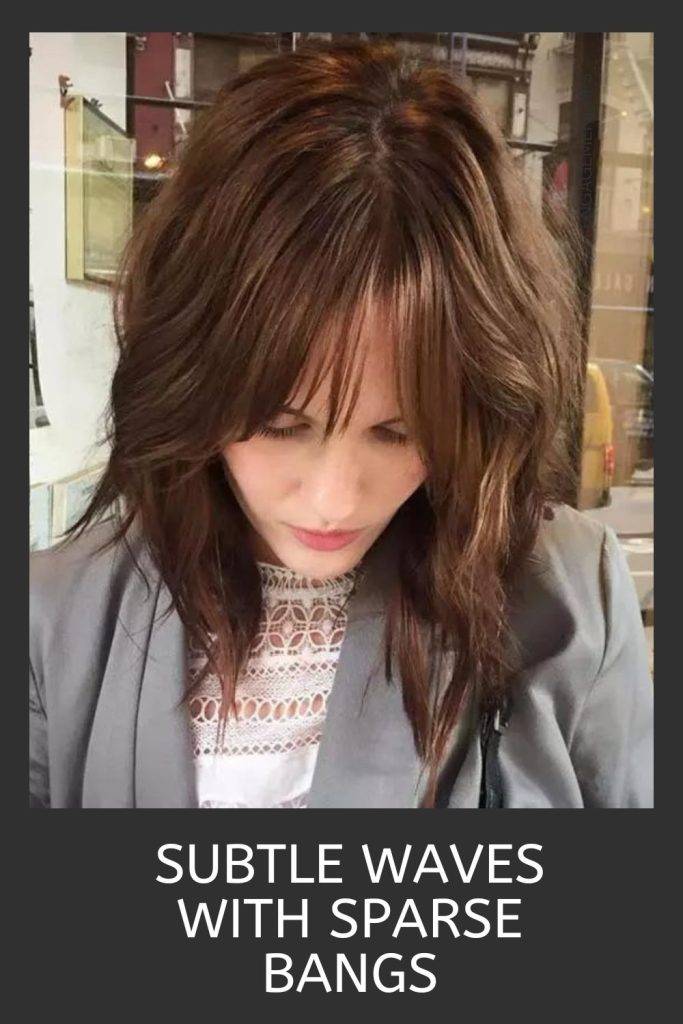 This is a long layered style for women with short hair. It is effortlessly trendy and easy to style too. This haircut can also be used to soften a round face look.
Pouffed Up Bangs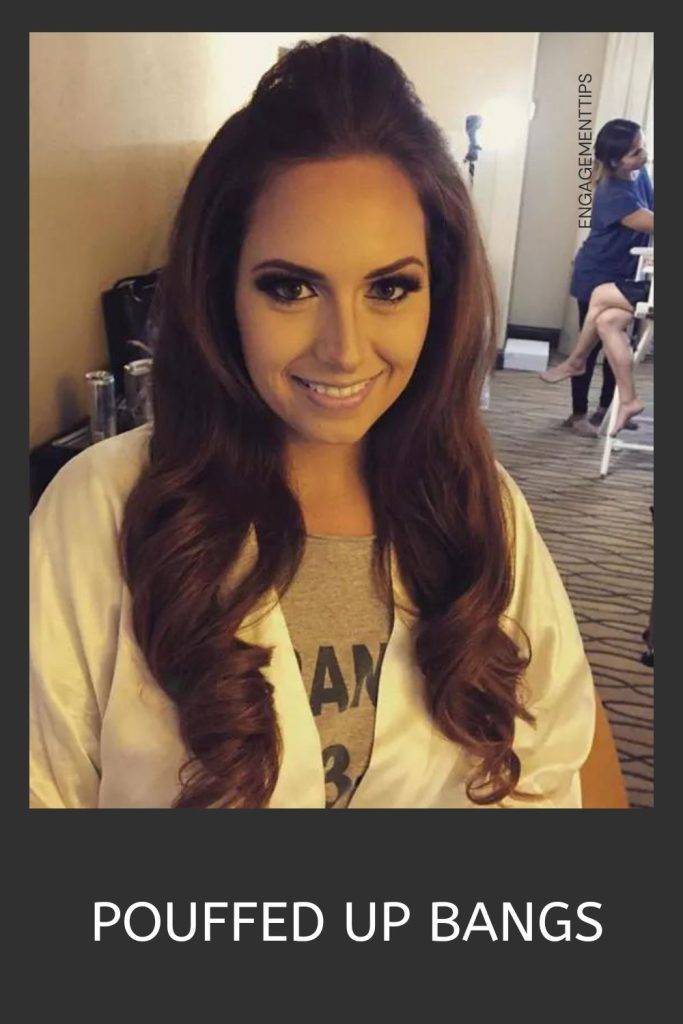 Adding a puff will look flattering on oval face shapes. Air dry or blow dry the hair on the top to get the puffed look. Then, add products that can tame the curls to reduce frizz.
Recommended Post – Professional Women Hairstyles | Quick and Easy Hairstyles for Long Hair | Long Shag hairstyles for Women | Long faces Hairstyles | Hairstyles for Thin Long hair | Hairstyles for Thick Long Hair | Party Wear Hairstyles for Women
Top Bun With Two Tiered Bangs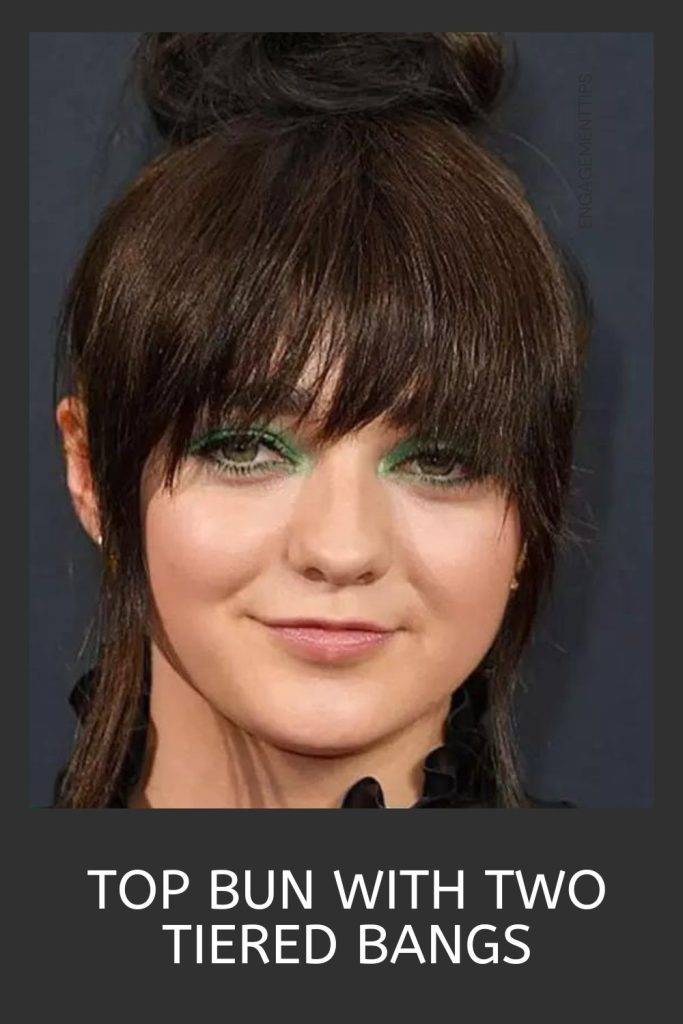 A top bun with a long fringe is perfect for tulle dresses. This will change the total look on your face. Blow dry the top using a round brush for the curling fit. Pair up with high heels to look like a doll. This is a trending hairstyle for 20s girls these days.
Casual Waves And Center Parted Bangs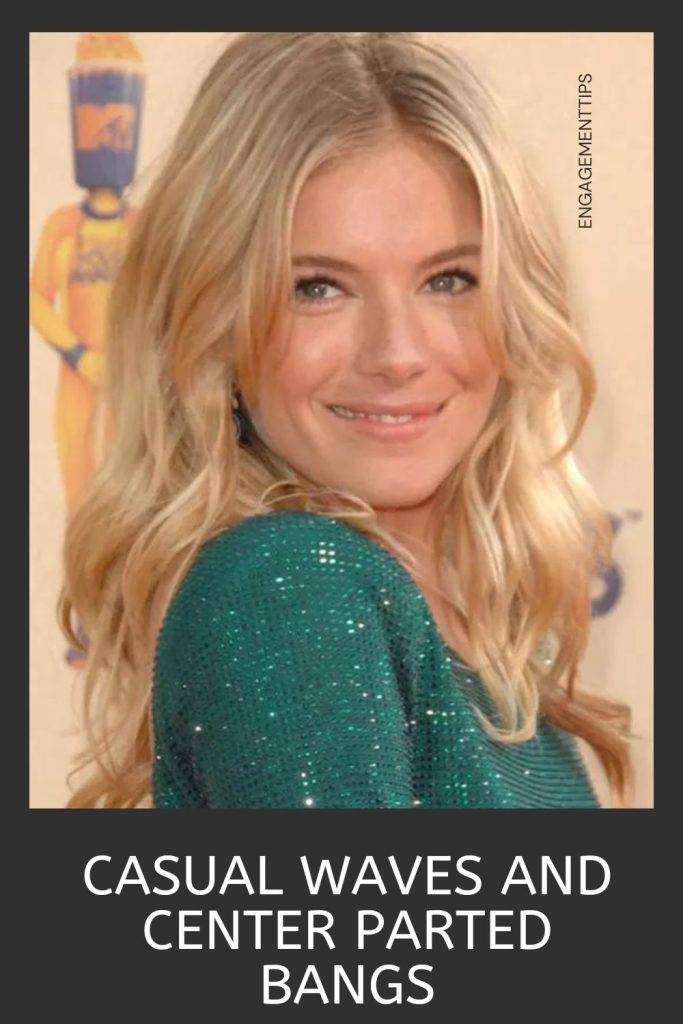 Spice up your center sectional styles with this casual wave style. Fringe styles do not have to be dramatic always; they can also offer soft glow looks like this. Try this center parted bangs hairstyles for party for long hair.
Recommended Post – Long Hairstyles for Round Face Women | Long Hairstyles for Oblong Face Women | Long Hairstyles for Oval Face Women | Long Hairstyles for Heart Face Women
Short Curly Layers With Front Bangs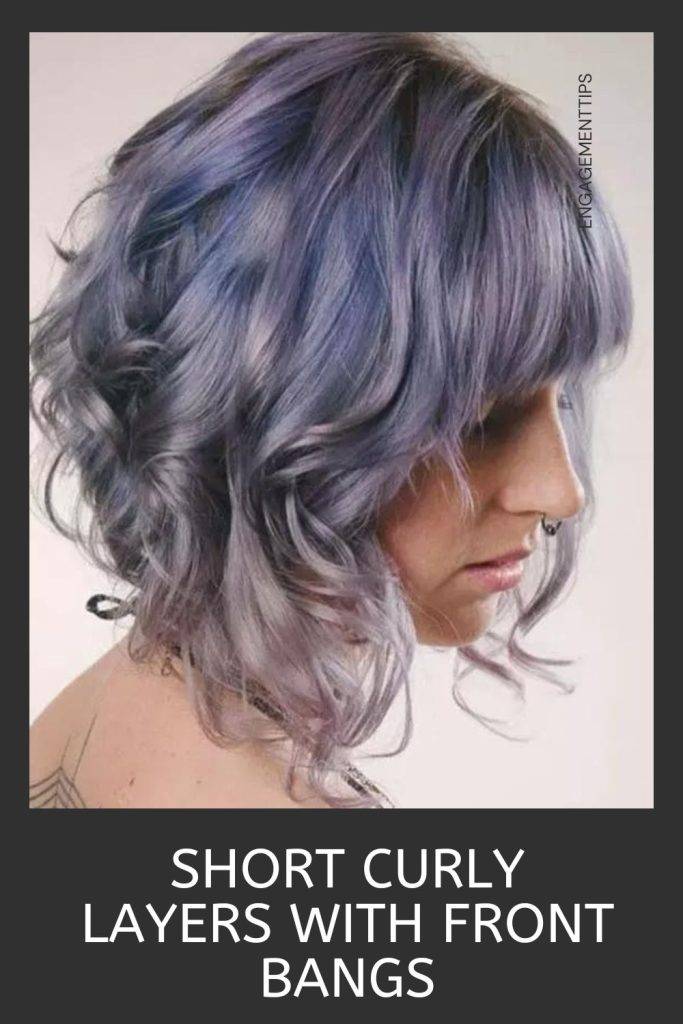 Short layered haircut are so cute and adorable. The lilac color is pretty painted on the locs to get a dimensional look—best for women who love pastel colors. This is most commonly hairstyles for 20s girls.
Long Layers With Simple Straight Cut Bangs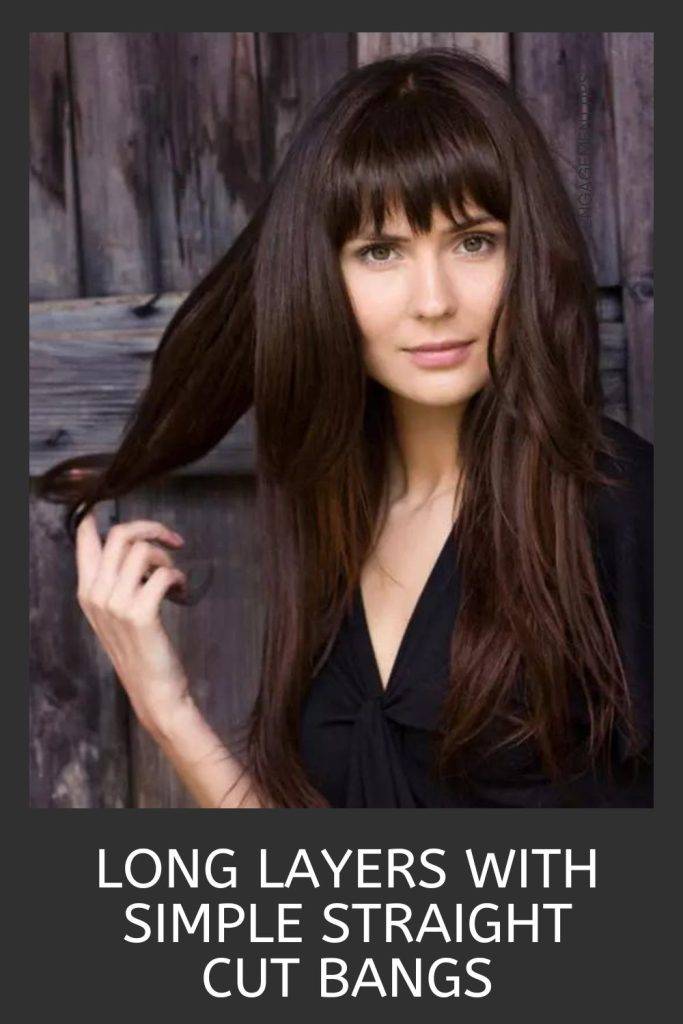 If you crave simple haircuts, try these layered bangs with long hair. This way, you can have a new look without losing your long straight hair length.
Recommended Post – Undercut Pixie Hairstyles | Medium Hair Layered Hairstyle | Pixie with Bangs | Short Hairstyles for Thick Hair | Short Hairstyles for Thin Hair | Side Bangs for Women | Choppy Hair for Women | Layered Haircuts with Bangs | Curtain Bangs Hairstyles | Wispy Bangs Hairstyles
Desert Rose Waves And Straight Bangs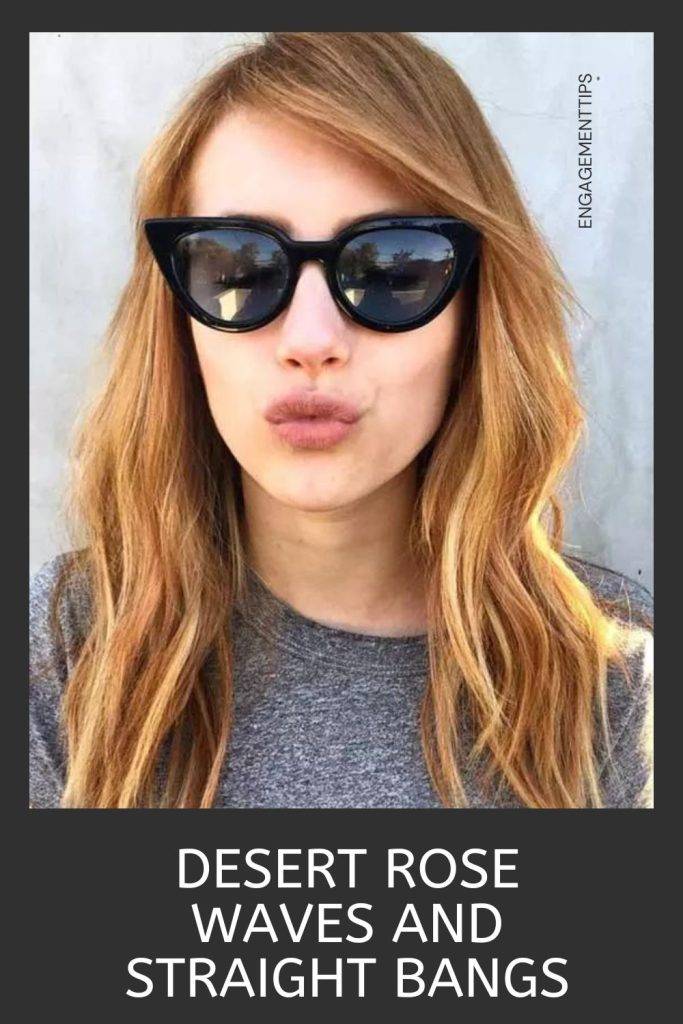 Wispy hair will give the best desert vibes. It perfectly balances the heart face shape highlighting the cheekbones. This would be the best hairstyles is for 40s women.
Super Curly Layers With Super Bangs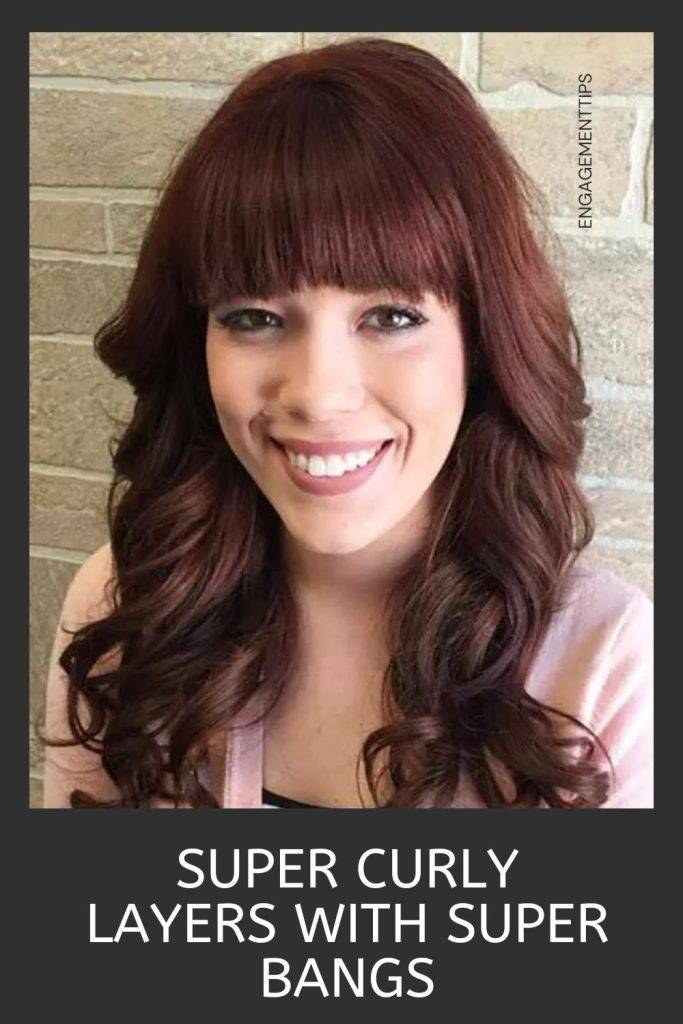 If you have rich red-brown hair, this will be an ideal look. The only thing you need to invest your time on will be blow drying your fringe.
Barbie Blonde Layers with Side Bangs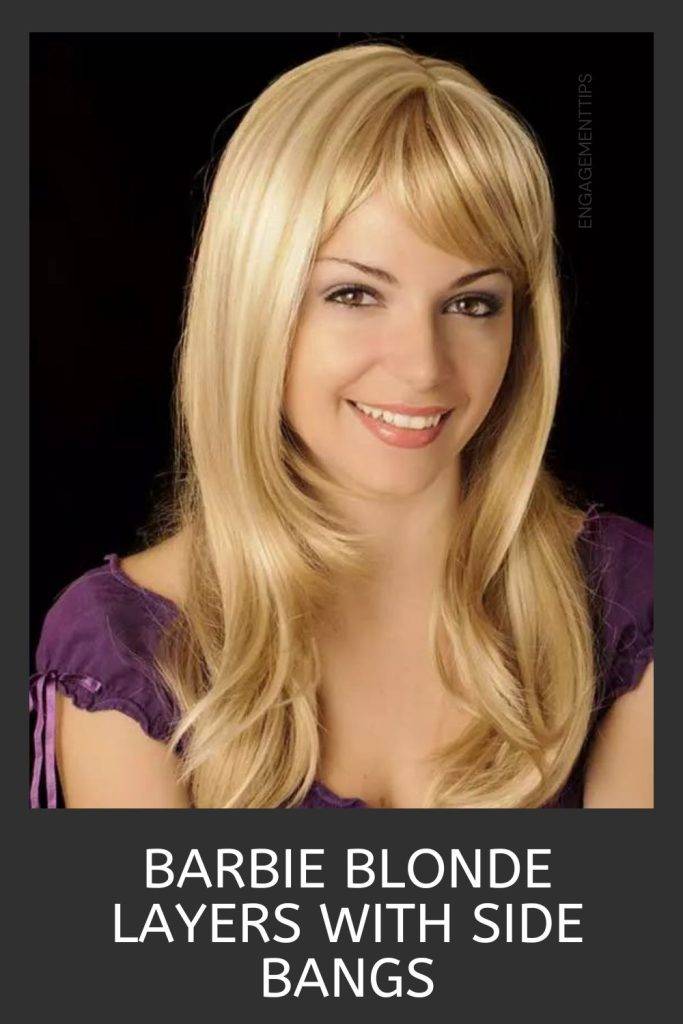 Blonde hair color with short, medium length layered haircut will give you a princess look. However, the sleekness of the style will not leave you behind in the hair trend.
Recommended Post – Short Curly Hairstyles for Women | Curly Shag Hairstyles for Women | Braid Hairstyle for Women | Pixie Hairstyles | Graduated Bob Hairstyles | Bob Hairstyles | Shaggy Bob hairstyles for Women | Stacked Bob Hairstyles for Women | Blunt cut Hairstyles | Mullet Hairstyles for Women | Short Layered Hairstyles
Gradually Leveled Layers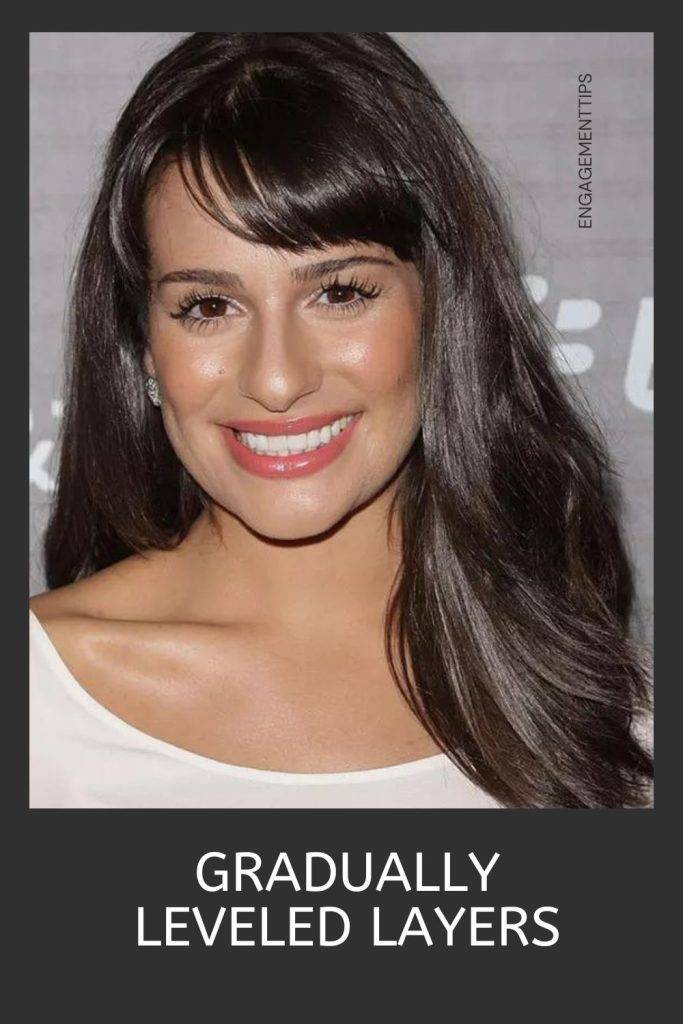 We love how glossy these gradual layers look. The gloss is on the point of stealing the spotlight. This style will be good for women with black hair as the gloss will be defined.
High Half Ponytail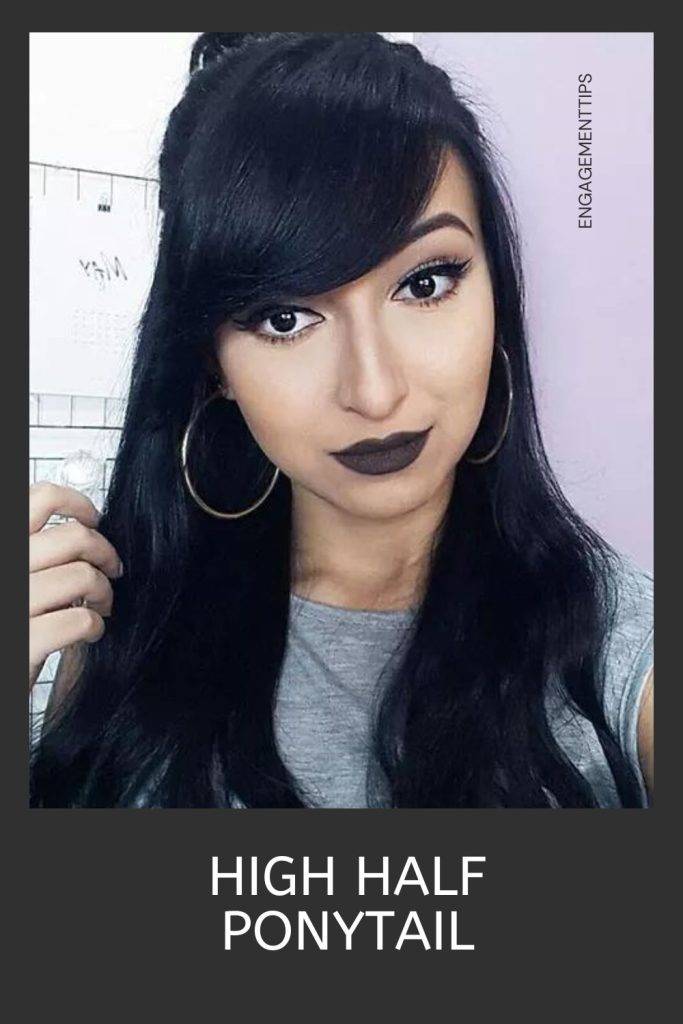 This style is for all the emo chics out there. So long hair stops you from getting that grunge vibe? Well, not anymore!
The top layers are turned into a ponytail, and the others are left free. Use dark and contrasting lip colors to finish the look.
Blunt Bangs Accented By A Headband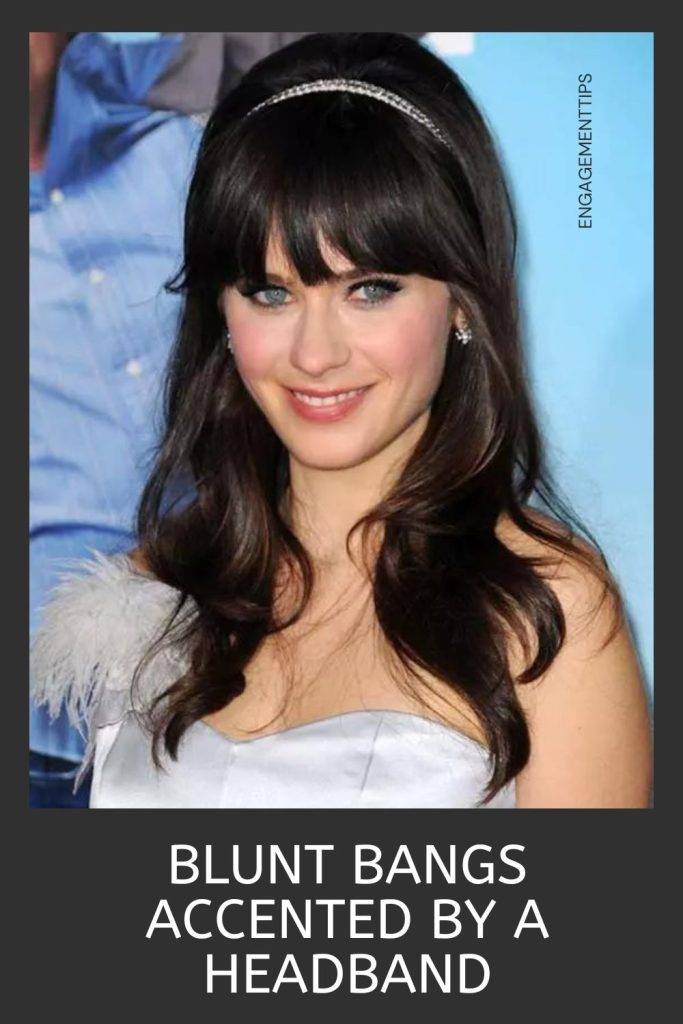 Looking for a low-key accessory hairstyle for your senior prom look? We've got just the look for you. A layered haircut in front accented with a headband will be a much more pleasing look.
Soft Waves with Parted Bangs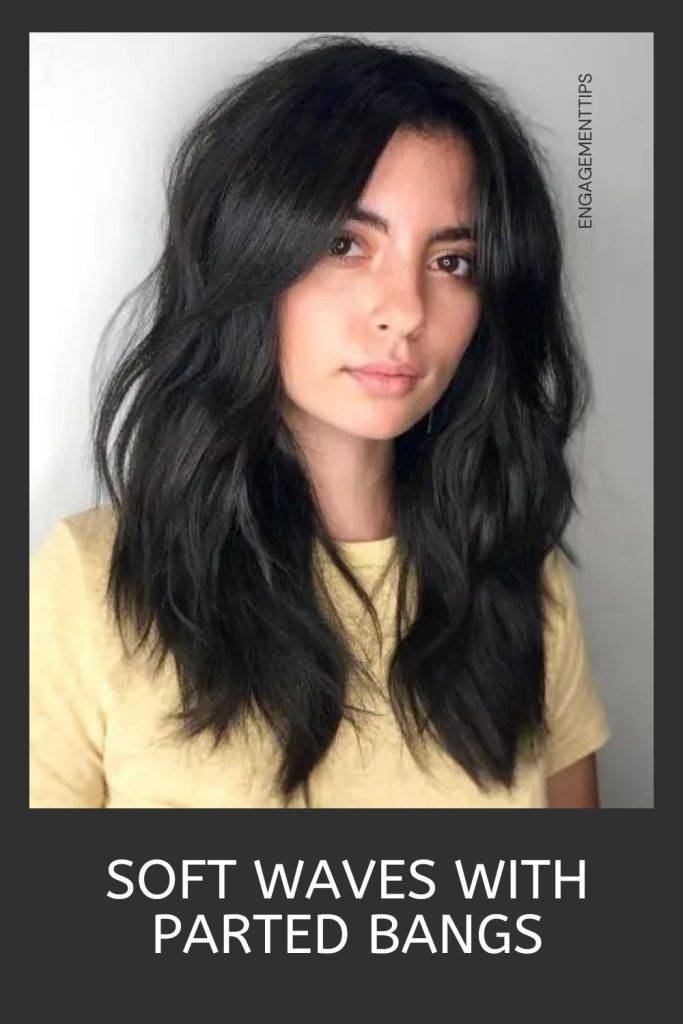 Choppy blended layers of hair will offer a soft and subtle look. Easy to maintain and looks good on all types of dressing styles.
Wispy Bangs for Fine Hair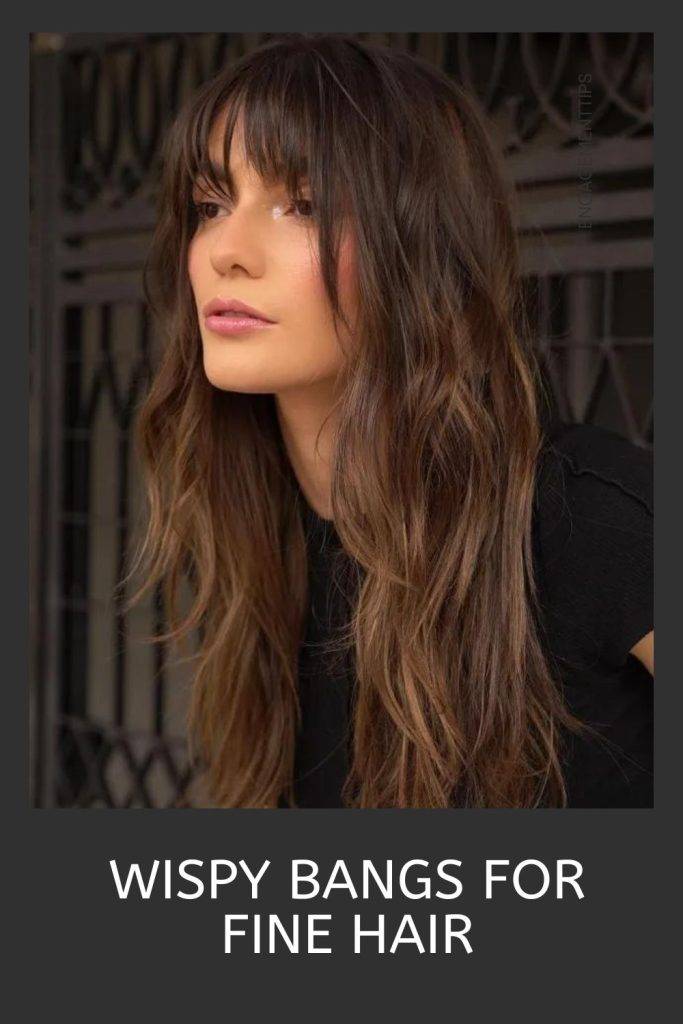 Looking for a low-maintenance or no-maintenance alternative?? Consider this style; it will instantly juice up your wispy hairstyle. Then, add serum or hydrating creams to get that moisture texture.
Short Choppy Fringe for Cool Shag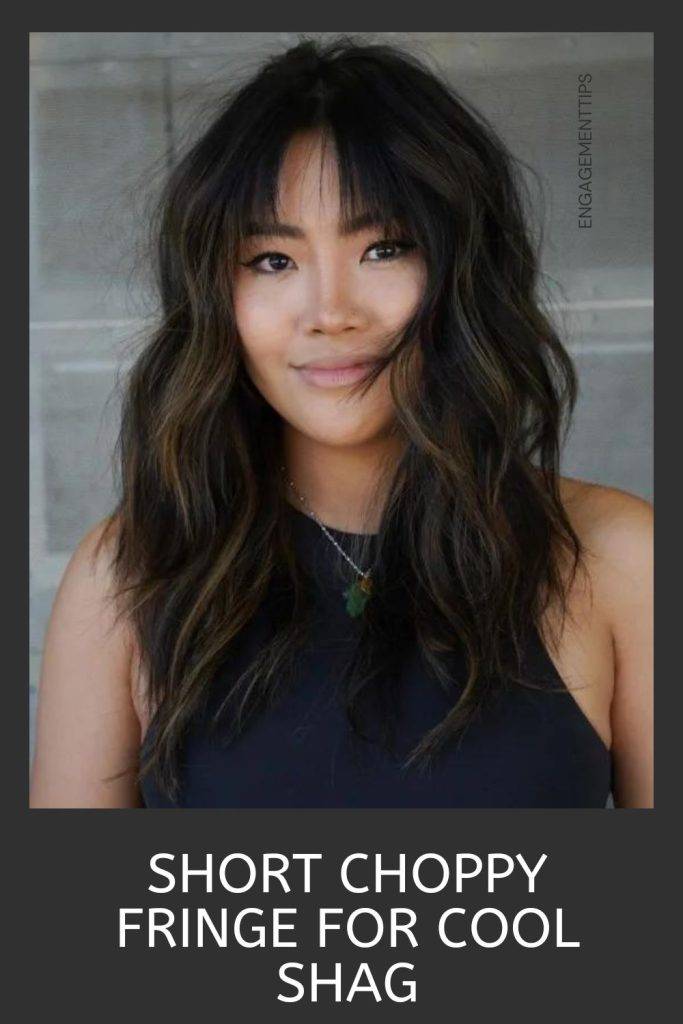 We are amazed that these chopped ends instantly give a relaxed vibe to this cool hairstyle. In addition, the thinly sliced layers are blended to get a chic modern look.
Long Blonde Hair with Blended Bangs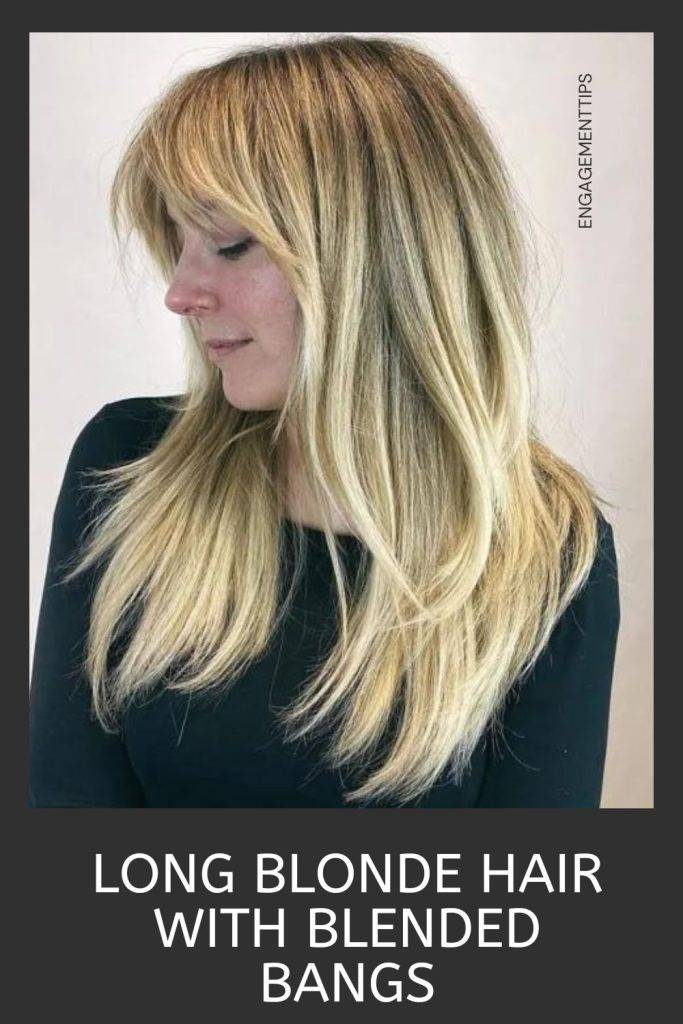 Mid-length hairstyles with fringe and layers are just the perfect hairstyles you should look for if you have pin-straight hair. They incorporate it easily to give a subtle hairstyle.
Fresh Layers with Side Bangs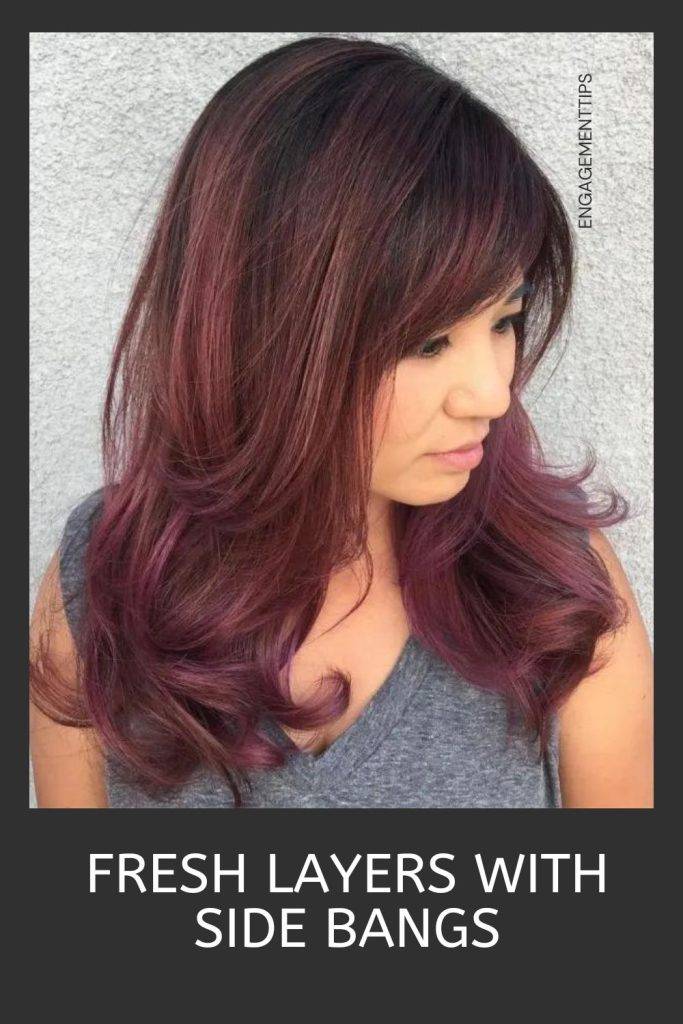 For fresh hair looks style your brunette hair as shown for an enigmatic look. Style with flat iron and hair gloss for a striking look.
Layers with Curtain Bangs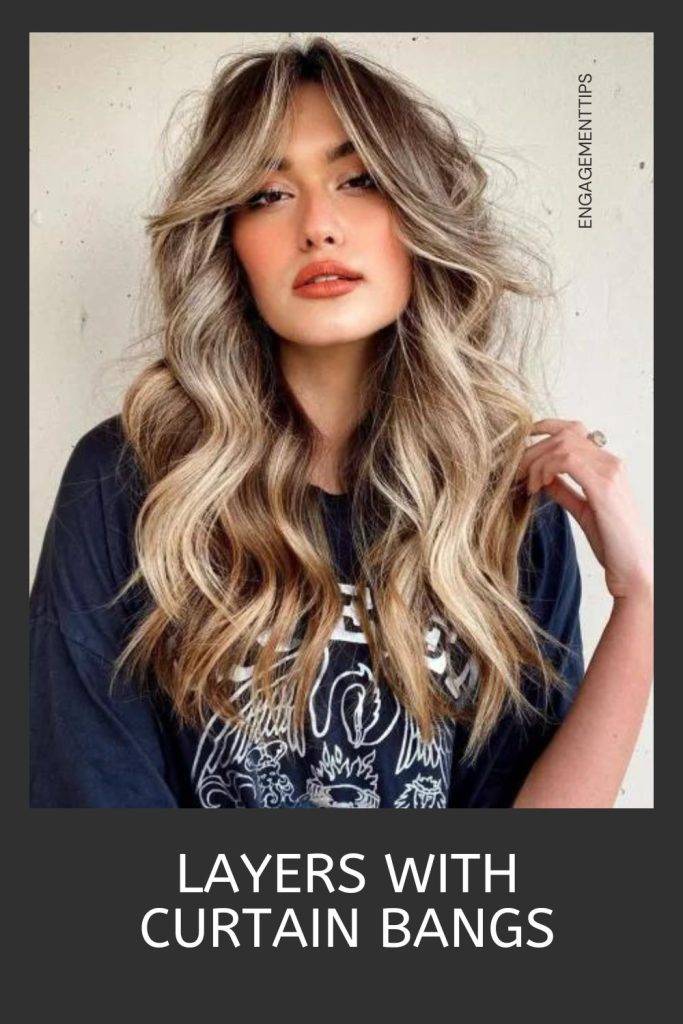 If you love highlighting your hair, try these layered haircut styles with curtain bangs look. The undone layers and the fringe are sultry and will add movement to the style.
Messy Layers with Parted Bangs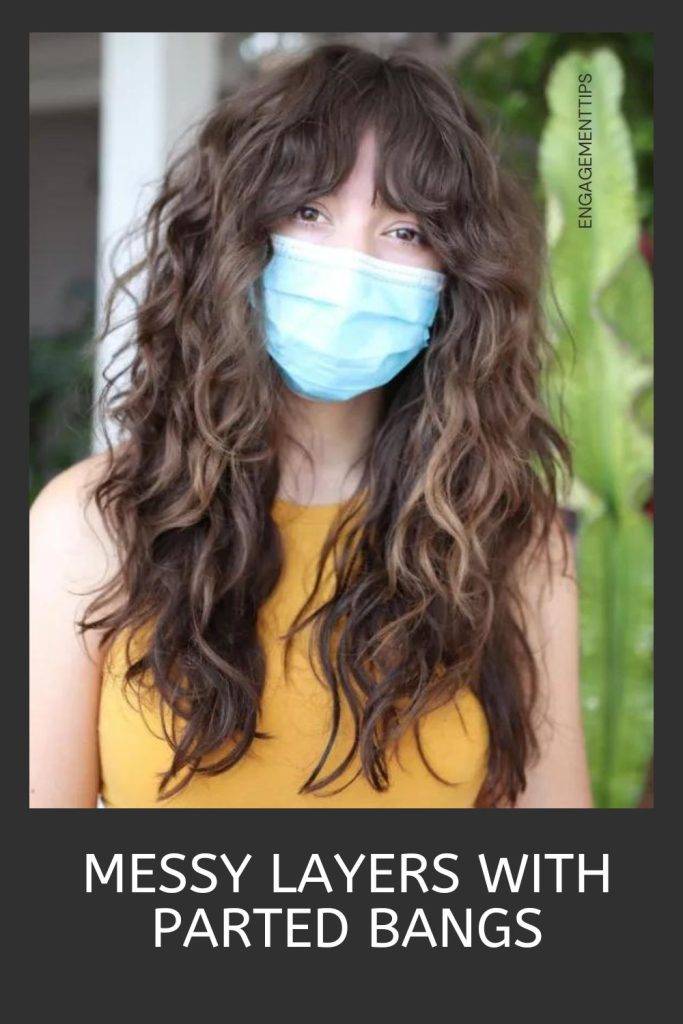 This hairstyle perfectly shows how cleanly you should place your hair pieces. The highlights and the waves are neatly placed for a messy look.
Angled Side Bangs with Long Hairstyle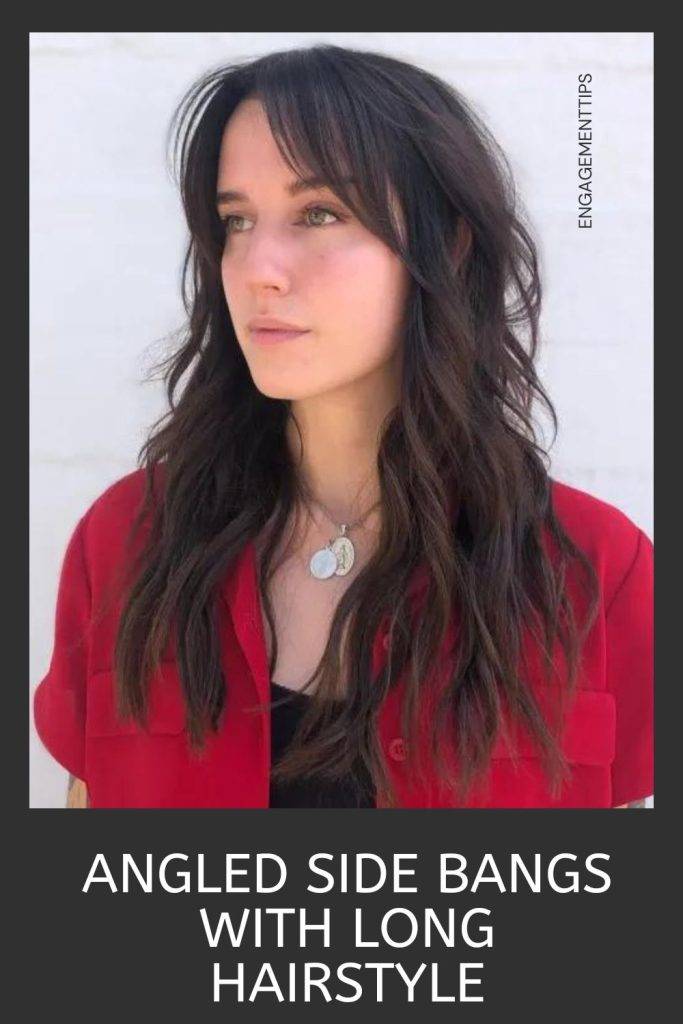 Angled styles go well with thin hair and can do a perfect balancing job for your facial features. Layered haircut thin hair will handle this look nicely for the volume.
Long Bangs with Curly Layers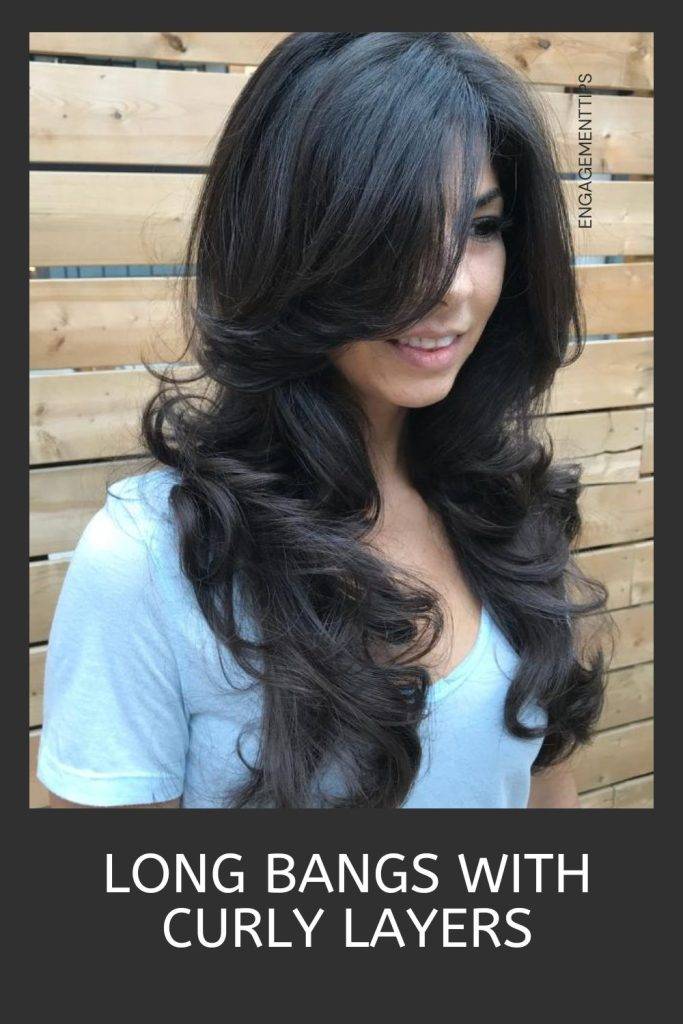 Long layered haircuts with thick side framing strands are extremely attractive. To complete the look, apply clean smokey eye makeup. This is also a perfect hairstyle for saree.
Feathered Long Hair with Bangs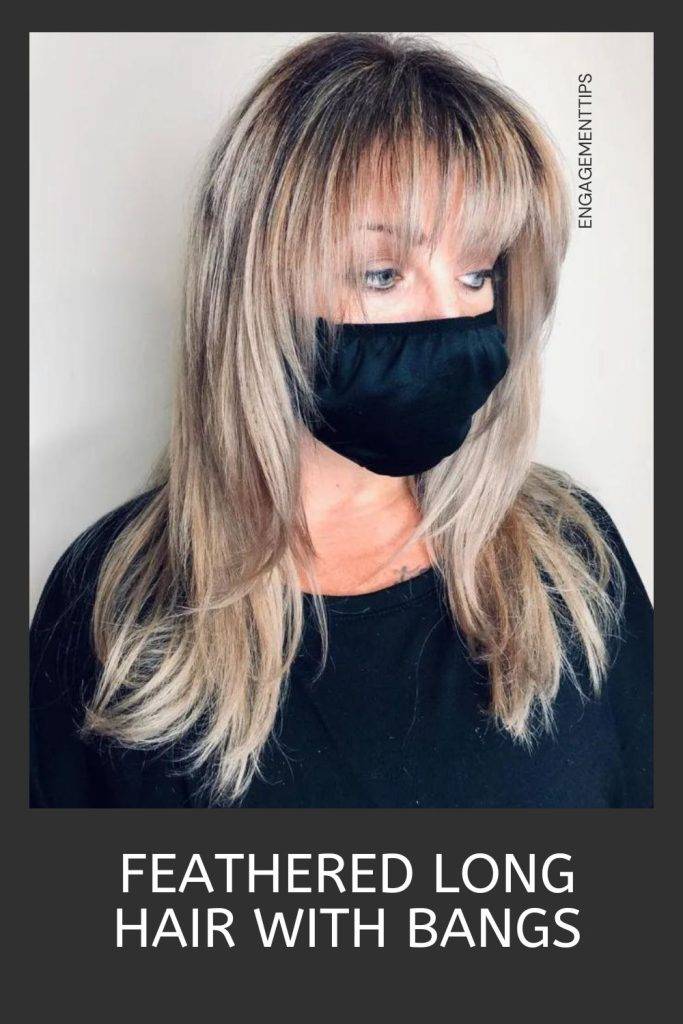 For a lived-in look, go for a feathered look. The locs are washed with a beautiful light dye that has dark roots.
Two-tier Long Layered Cut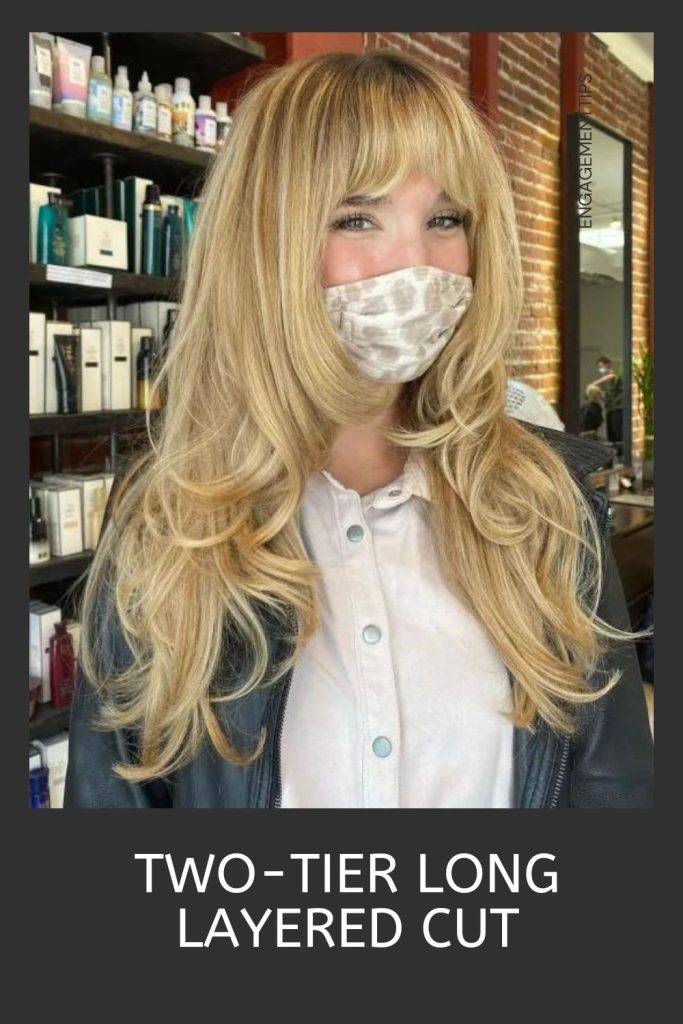 A Layered cut just a little bit longer than the chin is a great option for a hairstyle transformation. The feathers are long and beautiful.
Long Layers with Eyebrow Grazing Bangs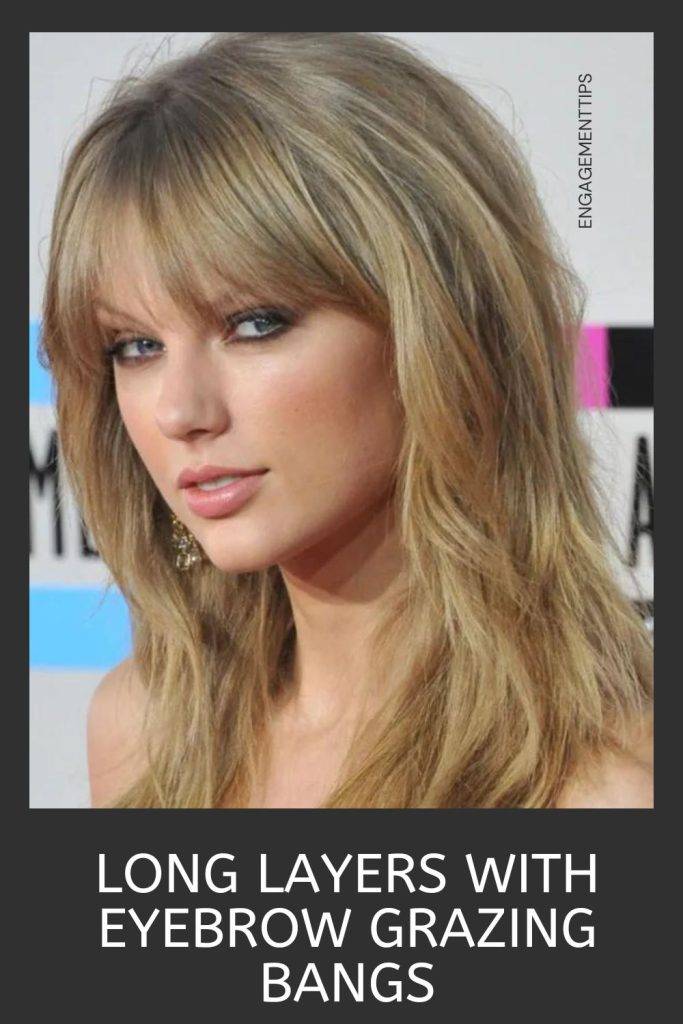 If you have blonde shoulder length, you can extremely benefit from layers. Long locs left flat that graze past the eyebrows will give a softened face glow.
Long Layered Hair with Bangs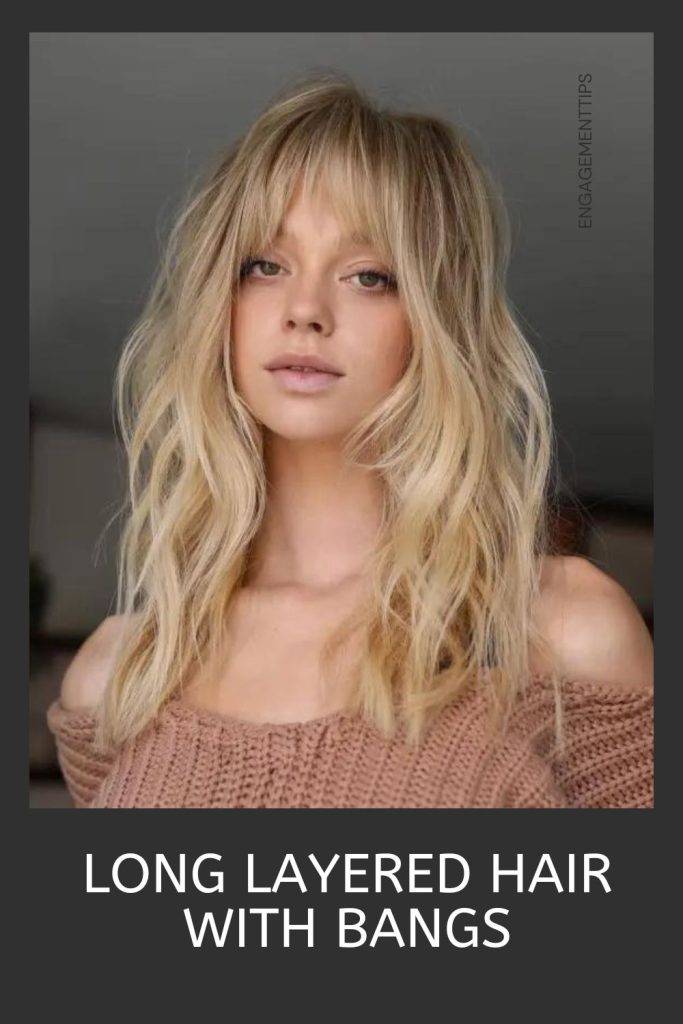 This choppy shag hair look has flirty vibes. These waves will add dimension to your hair, and you will get plenty of admirers for this look.
232 Images of Layered Hairstyles
Conclusion
Hair needs pampering to look nice and appealing. Getting a proper layered haircut will increase and improve the spotlight elements on your face.
Long, layered side bangs are the best way to do this job without much trouble. We hope this style guide has come to use for you to find your perfect fit.