And, no matter what face shape you have, we have multiple options for the latest hairstyles for 40 year old women that are perfect for different occasions.
Not able to find an ideal hairstyle for your aging face? Well, don't worry, as gone are the days when a whole variety of hairstyles used to be just for teens.
Hairstyles for different age groups – Hairstyles for 30's Women | Hairstyles for 20's women
Best Hairstyles on Face Shape of 40s women:
Wider/Square face hairstyles for 40s women with 40s Actresses examples are here:
Kareena Kapoor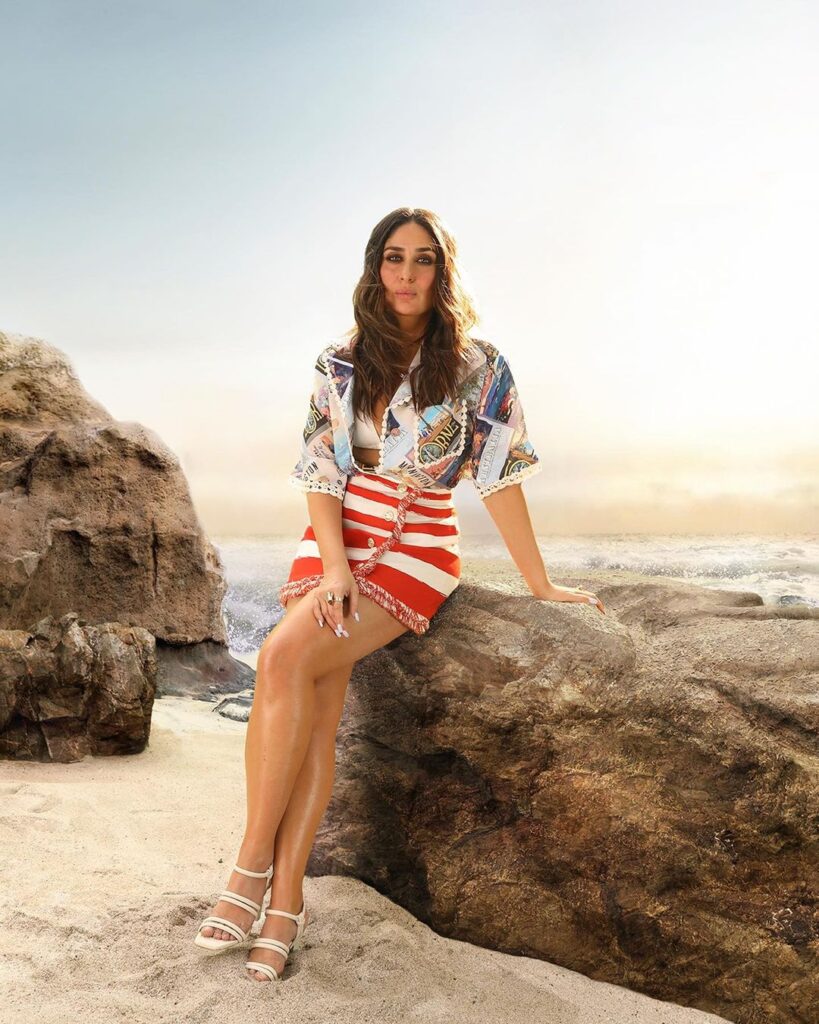 With her classy hairdos, Kareena Kapoor has served as an inspiration for her fans and followers. This beauty has been seen with center-parted wavy locks on several occasions that perfectly suit her square face by softening the edges.
So, if you're looking for a hairstyle that'll suit any occasion, then opt for Kareena Kapoor's hairstyle.
Priyanka Chopra
The ever-popular Priyanka Chopra hairstyle is curtain bangs of paired with long layers falling beneath the collarbones is quite a suitable style for square-shaped faces.
But, the bangs must be swept side and blended into the rest of your hair, just like her, to gain a softer look.
Recommended Post –
Madhuri Dixit
Meanwhile it is side-parted curly locks or a low messy ponytail, Madhuri Dixit has looked beautiful in each and every hairstyle. While endorsing a toothpaste brand, she was seen wearing a blue gown and a low wavy ponytail that made her a major attraction.
She has, in fact, deliberately chosen wavy hair on several occasions to impress her fans, making it the best among the professional haircuts for 40 year old woman 2023.
Recommended Post – Updos for Long Hair | Updos for Short Hair | Updos for Women
Fat/Double Chin Face Hairstyle with 40s Actresses Example
Anushka Shetty
Anushka Shetty is usually seen in a silky black side swept bangs hairstyle that suits her fat face. It is a simple hairstyle that creates long bangs at one side and adds lighter waves at the ends while keeping the rest of the hair straight.
Recommended Post –
Zareen Khan
Zareen Khan at Gravittus Foundation was seen in a high messy ponytail with a slight puff. This style, paired with soft makeup, gives her an adorable look.
So, if you're looking for a Hairstyles for 40s Women with fat face, then you can try this option. Go for a messy ponytail and leave some curly strands on the sides like Zareen Khan hairstyles.
Sushmita Sen
The long luscious middle parted look is the most common hairdo of Sushmita Sen that covers up her rounded fat face. Adding a bit of layer to her locks gives her a more voluminous look.
You can also try this style for casual occasions, but remember not to push back the hair behind your ears as this will broaden up your face more.
Recommended Post –
Vidya Balan
The loose curly braided style of Vidya Balan gives her the perfect Indian traditional looks, that is absolutely elegant and beautiful in this braided hairdo, paired with a saree.
So, if you're looking for a hairdo basically that'll suit your ethnic outfit, then go ahead with this 40s female hairstyle in India.
Recommended Post – Short Curly Hairstyles for Women | Curly Shag Hairstyles for Women | Braid Hairstyle for Women | Pixie Hairstyles | Graduated Bob Hairstyles | Bob Hairstyles | Shaggy Bob hairstyles for Women | Stacked Bob Hairstyles for Women | Blunt cut Hairstyles | Mullet Hairstyles for Women | Short Layered Hairstyles
Neha Dhupia
The boss babe, Neha Dhupia, has evolved her hair game from straight locks to cool hairstyles. You can try her sleek, side-parted low ponytail look for a glam event, which is easy to style. However, for a cool hairstyle, you can also try her french braided look at the crown of her head.
Apart from this, puff ponytail, side-parted curly hair, and sleek straight hairstyles are among the other looks that have been slayed by her.
Recommended Post –
Round Face Hairstyle with 40s Actresses Example
Preity Zinta
This beautiful actress has always been seen in a cute long bob cut that suits her round face. The long bob is among the latest hairstyles for 45 year old woman 2023, making you look younger.
Apart from this, for a round face, you can even try her long hair with layers of style that work like a charm.
Rani Mukherjee
If you have a round face, you and Rani Mukherjee lie on the same page. Thus, short cut and messy updos will best suit your face structure. Just make sure to add a little bounce or volume to the crown area and go ahead with either messy hairdos or long loose layers that will give a flattering length to your face.
Recommended Post –
Tabu
Another celebrity actress that gives us major hairstyles for 40s women idea is Tabu. With her round face, she too has been seen with messy hairdos on several occasions.
Whether it is long loose messy waves, or a messy ponytail, she has surely rocked each and every hairstyle.
Recommended Post – Short Hairstyles for Fine Hair | Edgy Hairstyles for Women | Neck Length Hairstyles for Women | Mohawk Hairstyles for Women | Jaw Length Hairstyles for Women | Chin Length Hair for Women | Layered Bob Hairstyles | Bollywood Inspires Short Haircuts
Oval Face Hairstyle with 40s Actresses Example
Aishwarya Rai
Aishwarya Rai's 90s look was all about thick, wavy middle-parted hair. In that era, Aishwarya Rai's hairstyle had wavy locks.
However, with time, she experimented with her locks and went ahead with silky, bouncy hair and has usually appeared in side-parted thick hairstyles for 40 year old woman with curly hair look that looks absolutely gorgeous on her.
Recommended Post –
Kajol
From getting a cool bob cut with bangs in "Kuch Kuch Hota Hai" to trying beautiful traditional hairstyles, Kajol hairstyles has given us major goals.
So, if you have an oval face and want to pick up a hairstyle with a saree, then you have several options, including gajra adorned bun, textured low bun, low ponytail, half updo, or even a retro bun.
Karishma Kapoor
One of the most popular hairstyles of Karishma Kapoor includes the sleek braided hairdo, paired with a saree. This Sabyasachi saree look of Karishma with a middle-parted hairdo gave us major wedding goals from Kochi.
Moreover, she is one of the actresses who has beautifully transformed from her big curly hairstyles to sleek straight hair.
Recommended Post –
Ameesha Patel
With her long beautiful hair, Ameesha Patel is usually seen in simple straight locks that give her an elegant look. The straight hair, paired with soft makeup and glossy lips, and a vibrant saree, is one of her most common and beautiful looks.
Heart Face Hairstyle with 40s Actresses Example
Chitrangada Singh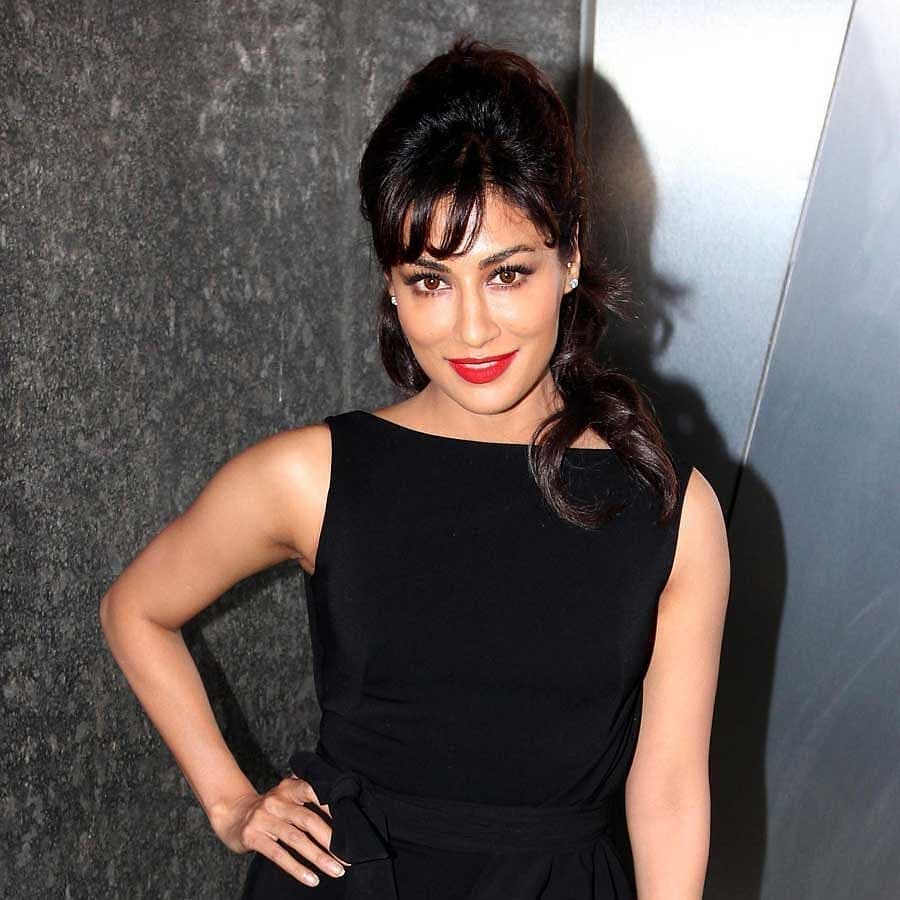 Chitrangada Singh gives a quite bold vibe with her layered locks and side-swept bangs. This is an ideal hairstyle for 40 year old asian woman that also suits her heart-shaped face and gives a cool and astonishing look.
The layered cut locks can be left open or even tied in a high ponytail, along with bangs falling on the forehead. A western outfit will surely look best with this look.
Shilpa Shetty
Shilpa Shetty embraced her face shape with long loose wavy hair that complemented her cheekbones. This is a great hairstyle that will go well with ethnic as well as western outfits. She was also seen in a messy bun style with an undercut that gave her a sporty look.
Popular Occasions Hairstyle in India
Professional Hairstyles
The best professional hairstyles for women over 40s can be a sleek ponytail for long hair and short, straight open locks tucked behind the ear. Besides this, you can go for hairstyles that remain out of your face, like a sleek bun.
Casual Hairstyles
Although there is a variety of casual hairstyles for 40 year old and woman with fine hair, the best one till date remains to be a long bob.
However, if you don't want to sacrifice your long locks, you can opt for long hairstyles for 40 year old woman with fine hair that can be left open or tied in a messy bun.
Party Hairstyles
In order to turn heads at a party, even in your 40s, you can opt for any of the following hairstyles, keeping in mind your face shape and hair texture.
For example, if you have medium or long locks, then face-framing layers that curl at the ends will be perfect for giving you a youthful appearance. A twisted updo can also be a great party hairstyle for long hair.
Wedding Hairstyles
Sideswept bangs updo with a bit of volume at the crown is an ideal wedding hairstyle for women over their 40s.
However, since Indian weddings usually do not go without a saree; therefore, a messy bun or side-swept curly look will be the perfect option to go ahead with.
Night Hairstyles with Gown or Pyjamas
The night is all about going simple and relaxed. Thus, simple open locks or a loose braid will best serve the purpose. If you have long hair, you can tie them in a loose braid, while it is best to leave them open for short hairstyles for 40 year old woman.
Moreover, whatever hairstyle you follow, just make sure not to tie your locks too lightly.
Morning Messy Hairstyles
While, you are in a hurry to prepare breakfast for the family, the best way to tie up your hair will be to wrap them in a messy high bun or a messy ponytail. This will be the most simple hairstyle ever that can be made in a fraction of second.
Popular Attires Hairstyle for 40s women in India
Business attire hairstyle
In order to style your locks in a way that'll suit your business attire, you can opt for a sleek ponytail, a sock bun, or even a middle-parted straight open look. Instead, go for simple hairstyles that'll give you a formal and mature look.
Informal attire hairstyles
Although the most common hairstyle for casual attire is a messy bun or classic ponytail, it is not just limited to this. Instead, you can go on with a boho ponytail, messy half updo, twisted bun, side braid, and even shaggy dimensional hair.
To create a messy bun, you will just have to pull back your locks without much combing and wrap them in a bun. So, for a broad or round face, you can leave some strands to fall on your face to frame it nicely.
formal western attire hairstyles
Straight, center, or side-parted sleek hairstyles usually go well with formal western attires. So, if you're wearing formal attire and want to make yourself stand out, than go for sleek hairstyles by first straightening your hair.
Than, apply some serum to get a flat look and then tie them in a low middle or side-parted ponytail.
Indian attires hairstyles
Saree attire hairstyles
There are innumerable hairstyle options available to be worn with a saree. The side braid bun hairstyle can always make you look stylish.
Although you can go for a messy or gajra bun or even open side-parted curly locks. Pair it with a flower accessory, and you'll get a beautiful look accordingly.
Salwaar Kameez attire hairstyle
With a salwar kameez attire, you can either go for open curls or a long hairstyles for women over 40, usually worn by Punjabis. In order to go for open curls hairstyle, you can either middle part your locks or get a center puff or even a French braid.
The same can go for a braided hairstyle as well. This will undoubtedly give you a complete 'desi' look.
Lehnga Choli attire hairstyle
Today, the most common and elegant hairstyle for party for long hair worn by women with lehenga choli is open curls with a side puff adorned with some accessories. You can also go for a messy bun with the volume on the top.
Moreover, you can eventually go for some colored streaks or highlights to make your hairstyle pop up.
Height and their Common Hairstyles for 40s women in India
Haircuts/Hairstyles for short height women in India
Hairstyle for short and fat women in India
No matter what height you have, deep down, we all want to look beautiful, and we'll help you out with this. For chubby women with short height, elegant short haircuts for 40 year old woman in India, like bob cuts, are the best option. Surely, they will make you look lovely and super cute.
Hairstyle for short and thin women in India
A high ponytail that is big and bouncy is the perfect option for women with short height. Besides this, top knots and layered hair work wonders. They'll add more personality, bounce to your locks, and give you a great look.
Haircut/Hairstyles for tall women in India
Hairstyle for tall and fat women in India
If you're tall and chubby, you must think about your hairstyles for 40 year old and woman with fat face, as a perfect one can help you boost your confidence levels.
Thus, hairstyles like a long bob or long curly hair can be the perfect hairstyles for tall girls and hairstyles for over 40 and overweight women.
Hairstyle for tall and thin women in India
If you are tall and thin, long or chin-length hair will be the best option, which will also look more feminine and even balance your body length. Face framing layers and bangs can even add to the beauty of your hairstyle and soften a long face and neck.
101 Hairstyles for Women in 40s
Conclusion
These were some of the latest hairstyles for 40s women that can be flattering to look at. Moreover, these hairstyles for 40s women will allow you to walk with confidence and make you look unique and trendy.