As our teenage years come to an end, a lot of things change, especially our fashion sense and hairstyles. Talking about hairstyles, there are a lot of choices available hairstyles for 20s Girls.
Each outfit you wear demands a different hairstyle. Your face shape also plays a major role in deciding which hairstyle will suit you.
Hairstyles for different age groups – Hairstyles for 40's Women | Hairstyles for 30's women
Read further to know more about hairstyles for 20s Girls will suit on which occasion.
Wider/Square Face Hairstyle with 20s Actresses social media Influencers Example
If your cheekbones, forehead, and jaw have the same width, but your jawline has sharp ends, then you have a square or wider face.
Shraddha Kapoor
Shraddha Kapoor has a sharp jawline, and she styles her hair according to that. If you want to show off your jawline, then you can take inspiration from her half-tie or braided hairstyles for young Women.
On the other hand, try her center-parted curly, or straight hair look if you want to focus on your face.
Pranitha Subash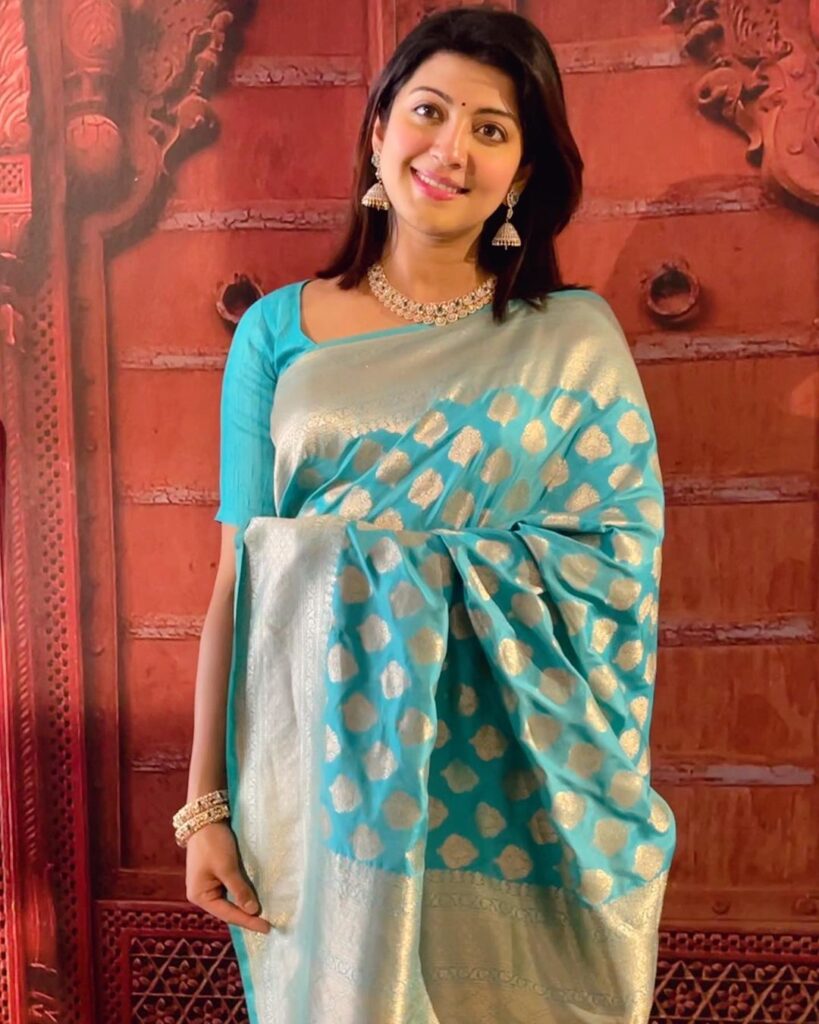 Pranitha Subash has a wide face, and she is not afraid of showing her facial features. So her curly bob hairstyle is the best choice if you want to show your beautiful wide face shape. Otherwise, long curly hair or a sleek ponytail would also look gorgeous hairstyles for saree.
Recommended Post –
Priya Prakash Varrier
If you have a fluffy hair texture like Priya Prakash Varrier, you should try her side braided look with thick side bangs. This look of hers is very famous and suits well on her wide-shaped face.
For those girls who are not fans of braids, keeping all your hair open with a side part will also look good on you.
Shirley Setia
Short hair will suit you when you have small eyes and a square-shaped face. Take Shirley Setia's example; her short hair with curtain bangs suits very well on her face shape. It depends on whether you keep your hair curly or straight; both haircuts for 20 year old woman 2023.
Fat/Double Chin Face Hairstyle with 20s Actresses and social media Influencers Example
If your cheeks are fuller and your chin has an extra layer of skin beneath it, you have a beautiful double chin face. Here are some hairstyles for 20s Girls 2023 for chubby faces.
Sara Ali Khan
Some girls like to show to their fuller cheeks while some don't. For the ones who like it, try Sara Ali Khan's high ponytail or messy bun look. For the ones who don't like it, take inspiration from this gorgeous actress's open hairstyles like crown braid or double french braid.
High ponytail with layered hair with bangs is also a suitable hairstyles for double chin faces like Sara.
Recommended Post –
Kritika Khurana
This social media influencer has many hairstyle ideas that will suit chubby face girls. You can take inspiration from her hairstyle ideas and try them. One of the hairstyles we recommend you to try is pigtails with multiple hair ties. It's something unique and will suit you.
Aashna Shroff
This fashion influencer never runs out of hairstyles that suit beautiful chubby faces. Her sleek middle-parted look is what we recommend you to try.
It's simple and classy. If you don't like to keep your hair open, you can tie it in a sleek, tight bun.
Recommended Post –
Round Face Hairstyle with 20s Actresses and social media Influencers Example
If your jaw has soft corners, then you have a round face. Round face girls are considered "cute," so why not increase this cuteness with these 20s female hairstyles in India.
Alia Bhatt
Alia Bhatt loves showing off her round face with her amazing hairstyles. Be it a messy braided hairstyle or curly hair; she knows what will suit a round face. Take inspiration from a range of hairstyles like a sleek high ponytail or side tucked hairstyle.
Komal Pandey
Komal Pandey gives not only fashion inspiration but also major hair goals. We love her straight bob look that goes perfectly with her round face shape. You can try this hairstyle on your round face and do little variations like side tucking it or double braiding.
Recommended Post –
Keerthy Suresh
Keerthy Suresh is the best example of having a perfectly round face. You can take hairstyle ideas from her, like a fishtail braid or a braided bun. These hairstyles will go with ethnic outfits.
Rashmika Mandanna
Rashmika Mandanna has proved that every hairstyle can look good on a round face. So curls, straight hair, bun, short hair, ponytail, each hairstyle will look good on your face shape.
Recommended Post –
Sanjana Singh
This Tamil actress has given us some great hairstyle ideas. Her side-parted straight hair look is the one we think will look good on your beautiful round face.
Oval Face Hairstyles with 20s girls Actresses and social media Influencers Example
If the length of your face is more than the width, then you have an oval-shaped face. Look at these Haircuts for 25 years old women for such face shapes.
Ananya Pandey
Anyone looking for hairstyles ideas for their oval face should look at Ananya Pandey's hairstyles. Her beautiful thick hair is perfect for making any hairstyle. Be it two side buns or loose curls; her hairstyles will suit any oval face girl.
Recommended Post –
Rj Mahvash
For the girls who like to keep their hair short, should take inspiration from Rj Mahvash's short hair look.
Short haircuts for 20 year old woman will go with your oval face and highlight your facial features.
Jagriti Pahwa
Jagriti Pahwa is giving us some major hairstyle goals with her side flick hairstyles. If you're a fan of flicks, then this hairstyle will look good on your oval face.
Recommended Post –
Disha Patani
Everybody is familiar with Disha Patani's amazing figure, but we should not ignore her beautiful hair. Her bangs haircut totally matched with her long face. You should go for bangs if you have long hair.
Diipa Khosla
We all loved Diipa Khosla's this look. Be it her gown or makeup; everything was on point. Her hair was tied in a beautifully layered bun. This hairstyle is perfect if you're attending a special occasion like a wedding.
Recommended Post –
Heart Face Hairstyle with 20s Actresses and social media Influencers Example
If your forehead is wider than the rest of your face, then you have a heart-shaped face. Take a look at the latest hairstyles for girls in their 20s.
Harnaaz Sandhu
Everybody knows Miss Universe Harnaaz Sandhu. She looked gorgeous when she won this title. She kept her hair simple in a center-parted curly hairstyle. This hairstyle highlighted her beautiful facial features.
Manushi Chillar
Manushi Chillar's sleek hairstyle is what every heart face girl should try. It looks neat and enhances your facial features. This hairstyle goes with any outfit you wear.
Recommended Post –
Pooja Mundhra Mahatme
Goes by the handle thecozyvibe on Instagram, she gives great fashion ideas. The way she styles her hair in all her videos totally matches her face shape. We recommend you to try her center-parted half-tie hairstyle.
Popular Occasions Hairstyle for 20s Girls in India
Several occasions come in our life, and there's a way to style your hair according to each occasion. Read further to find out more.
Professional Hairstyles
Women in their 20s have a childish look on their face, and a professional occasion requires a mature look. Try these professional hairstyles for women to get a formal look.
Straight Bob
Sleek high ponytail
Professional pixie
Straight Lob
Side fish braid
Casual Hairstyles
If you're visiting your relatives or going for a coffee, then you don't have to put so much effort into styling your hair. Instead, try these casual hairstyles for 19 year old females for such occasions.
Wavy Bob
Loose Low Ponytail
Messy Bun
Messy High Tie
Side-Parted or Center-Parted Hair
Party Hairstyles
Every young soul likes to party even when there's no reason to. So, like you change your outfit according to the place, change your hairstyle too this time. Check out these party hairstyles for long hair to try next time.
Waterfall Hairstyle
Center Parted Wavy Hair
Wispy Bangs
High Ponytail with Side Bangs
Wedding Hairstyles
Every Indian citizen knows how big fat Indian weddings are. This is the one event where Indians take too much time to get ready, especially girls. Two things take time, the first is makeup, and the second is hairstyle. So try these wedding hairstyles that will look gorgeous on your every outfit.
Dutch Braid
Fish Braid
Double French Braid
Braided Bun
Night Hairstyles with Gown or Pyjamas
Our hair needs the most care at night. Try these night hairstyles that are not only good for your hair but also very comfortable.
Two Sides Traditional Braids
One-Sided Braid
Loose Braids
Morning messy hairstyles
If you don't have time to style your hair in the morning, you should try sleeping in these hairstyles to get beautiful, messy hair in the morning.
Bun
Pigtails
Mini Buns
French Braid
Popular Attires Hairstyles for 20s Girls in India
We always try to wear a different attire each day, and each attire requires a particular hairstyle too. So let's take a look at what hairstyles will suit these attires.
Business Attire Hairstyles
Business Attires require a formal hairstyle. Try these formal hairstyles on your outfit.
Pin One Side Back
Natural Hair
Neat Bun
Straight Hair
Curly Hair
Informal Attire Hairstyles
Informal outfits need a simple hairstyle like the ones mentioned below:
Flicks
Side Parted Loose Ponytail
Fishtail in Ponytail
Two Side Buns
Formal Western Attire Hairstyles
If you're a working woman, you must have attended some formal parties. Though it's a party, it still requires to be formal. Try these hairstyles on your formal western attire next time.
Straight Middle Length Hair
Curly Short Hair
Wavy Pixie
Layered Long Hair
Indian Attires Hairstyles
Indian attires are so pretty that you can't go without getting full-on ready. So let's take a look at which hairstyle will suit these Indian Attires.
Saree Attire Hairstyles
Bun
Braids
Salwar Kameez Attire Hairstyle
French Braid
Lehenga Choli Attire Hairstyle
Crown Braids
One Side French Braid
Height and their Common Hairstyles for 20s women in India
Average height of Indian women is 5'1.
Haircuts/Hairstyles for short height women in India
Loaded with cuteness, short-height girls need to try these hairstyles.
Hairstyle for short and fat women in India
Short Hair
Wavy Bob
Pixie
Middle Length Hair
Hairstyle for short and thin women in India
Blunt Bangs
Curly Short Hair
Spiky bangs
Pixie with Bangs
Haircut/Hairstyles for Tall women in India
Tall and classy, you girls need to try these hairstyles
Hairstyle for tall and fat women in India
High Ponytail with Curtain Bangs
Straight Lob
Middle Length Wavy Hair
Pixie with Golden Highlights
Layered Middle Length Bob
A Straight and Long Lob
Wavy Hair
Messy Pixie
118+ Hairstyles for 20s girls
Conclusion
The conclusion arises that a lot of factors determine how you should style your hair. Your outfit, occasion, face shape, etc., everything counts in deciding your hairstyle. No matter what hairstyle you try, you should know the key to style latest hairstyles for 20s Girls.