Aries and Gemini compatibility is excellent since both signs have similar features, and their relationship goes beyond passion. Aries (ruled by Mars) and Gemini (ruled by Mercury) are both fiercely protective of their partners and loved ones.
However, they are also full of energy, very ambitious, and will give their all to complete a goal or work in which they are involved. Hence they are an ideal example of friendship, love, and marriage.
Aries is adventurous and likes being with their loved ones, while Gemini is joyful and extroverted. Hence they have more chances to have a phenomenal conversation and lead a happy life forever.
In this post, we discuss several more aspects of the Aries-Gemini compatibility.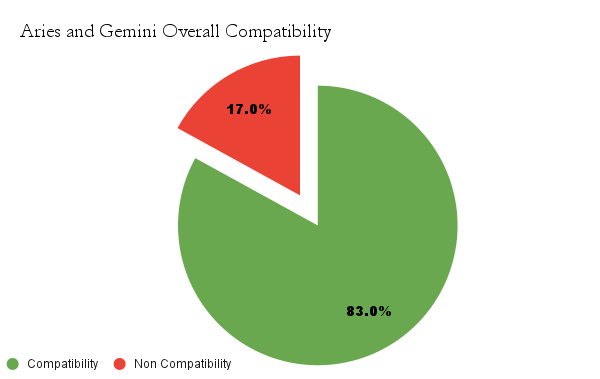 Aries Man and Gemini Woman Compatibility
Aries man and Gemini woman compatibility make them a very productive duo. They are enthusiastic, adoring, loving, and adventurous.
They don't get bored easily since they are always up for an adventure. Aries and Gemini's love compatibility is extraordinary in romance.
Aries man is always the relationship's dominating partner. They are very possessive of those they care about; this behavior makes them excellent partners or spouses.
A Gemini woman appreciates her soft and sensitive side but is also independent and open to new experiences.
---
Recommended Post –
---
Aries woman and Gemini man
Gemini man and Aries woman compatibility are exceptional. Aries women are kind and thoughtful; therefore, they are excellent friends, lovers, and wives.
A Gemini man is also kind and always ready to help. Both are daring and passionate, which may create a stimulating environment for romance.
An Aries woman is dominant, which can cause issues in her relationship with a Gemini guy unless they compromise and share leadership. They are always willing to support one another, even when times are bad.
Aries and Gemini in a Relationship
It is convenient for a Gemini to interact with any other sign since it controls the planet of communication, Mercury. While Aries is full of enthusiasm and excitement. They are always ready for challenges and love to go on an adventure.
The compatibility of Aries and Gemini is high since they have common traits, including their propensity to take the lead and be an influential partner in the relationship.
However, the couple must learn to compromise to be satisfied with the outcome of each choice.
Gemini and Aries as friends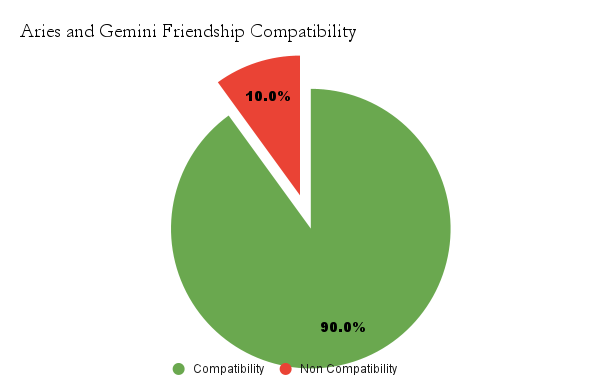 Aries is a brave, ambitious, eager, and powerful sign; it is the best friend of Gemini. Aries get along with any zodiac sign because they are open-minded.
Gemini and Aries compatibility friendship with each other is great because they are extroverted, vibrant, and impulsive.
Aries and Gemini in a Marriage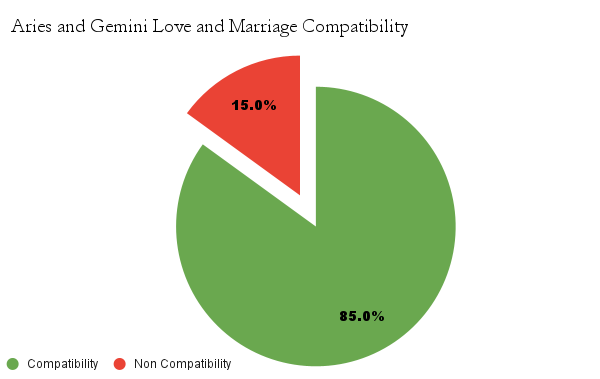 When Aries falls in love with a Gemini, they gain emotional compatibility, which is vital in a marriage. When it comes to love, Aries and Gemini will likely be extremely happy together and shine.
Aries and Gemini's marriage compatibility focuses on making them a reality. Gemini is a fantastic Aries companion because they appreciate them while putting them on their feet.
---
Recommended Post –
---
Sex between Aries and Gemini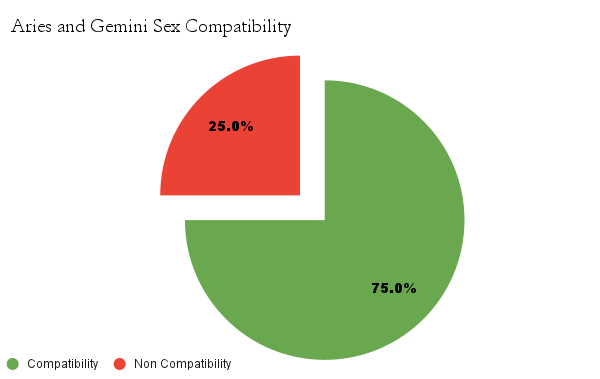 Aries and Gemini compatibility percentage in sex is high. They have an intense relationship filled with the appeal and thrill of two vibrant people.
However, when it comes to sexual compatibility, Aries and Gemini are opposed. Aries isn't afraid to take command in bed, whereas Gemini is always prepared to follow their lead.
Aries and Gemini at Workplace
Indeed, the two make a tremendously effective work collaboration if they maintain their enormous energy. Gemini supports Aries's adventurous proposals and actions, while Aries love Gemini's adaptability and skill with words.
As a result, Aries and Gemini in Workplace can bring the best version out of each other.
---
Recommended Post –
---
Aries and Gemini Celebrity Couple
Rani Mukherjee – Aditya Chopra
Rani Mukherjee is an Aries and Aditya Chopra is a Gemini.
Lara Dutta – Mahesh Bhupathi
Lara Dutta is an Aries and Mahesh Bhupati is a Gemini.
Conclusion
The Aries and Gemini Compatibility is excellent. These astrological signs are an ideal match. They are both genuine and courageous.
They would never lose out on pleasant stuff to do in their relationship. Although their disputes may be heated, they will get along fine as a pair as long as they constantly respect one another.