Apple cider vinegar is made of apples by squeezing the juice from the fruit and infused with yeast to ferment it. It has a deep amber color. The unpasteurized versions of vinegar had a cloudy appearance but have a lot of health benefits. Initially, it was used to make salad dressings, sauces as well as for other preservative purposes. But many other beneficial properties have been discovered about apple cider vinegar. Let's explore them.
Recommended Posts
Can Apple Cider Vinegar help in losing weight?
Studies have shown that apple cider vinegar in weight loss is quite useful, but more research is required to prove the same. Although, the users have reported that they have witnessed an increased rate of weight loss because of apple cider vinegar. It even makes the dieters feel fuller resulting in shedding the extra pounds.
How to take apple cider vinegar?
There are various ways to take apple cider vinegar. Some are more appetizing than others. Apple cider vinegar weight-loss diet will help you in shedding some extra pounds naturally.
Here is your Apple Cider Vinegar weight loss recipe, simple and easy:
Just take 2 tablespoons of apple cider vinegar with warm water. If the flavor is not very pleasant, natural sweeteners like honey, stevia, and maple syrup can be added. Though hardcore dieters take it neat.
Dietitians have stated that it won't do any miracles overnight, to see the changes you have to take it regularly for 3-4 months. It will take some time to work on your body resulting in the desired weight loss.
Various users have said that they have witnessed the weight loss by taking apple cider vinegar for weight loss in 1 week. Mix one tablespoon of it with 1 cup of water and drink it 30 minutes before each meal, i.e., 3 times a day to see the results within in a week.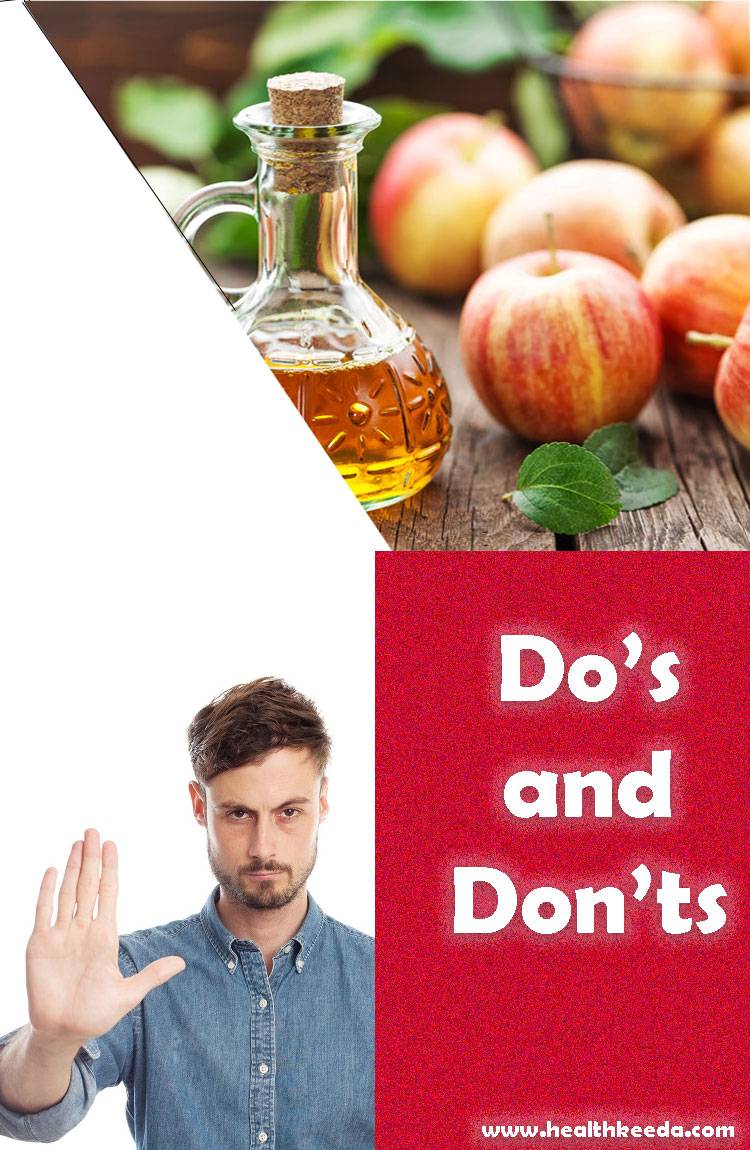 Do's and don'ts of apple cider vinegar:
Most people can safely consume a reasonable amount of apple cider vinegar. Still, a few guidelines to take apple cider vinegar can be useful:
Try taking apple cider vinegar for weight loss for 1 week. A week's time will let you know if the consumption positively suits your body or not. If you observe any side effects, stop taking it immediately.
The intake of apple cider vinegar should start with a small amount and then slowly increase the quantity to a maximum of 2 tbsp that is 30 ml per day. The amount of intake also depends on your tolerance.
Minimise your tooth exposure to Apple Cider Vinegar. This can be done by diluting vinegar in water and drinking through a straw.
It is crucial to rinse your mouth after taking apple cider vinegar. You should at least wait for 30 minutes before brushing your teeth to avoid extra enamel damage.
Avoid taking apple cider vinegar if you have gastroparesis. And if at all you need to take it to limit the amount to 1 teaspoon that is 5 ml in water or salad dressing.
Allergy because of apple cider vinegar a very rare but if you experience any immediately stop taking it.
Recommended Post –
Apple cider vinegar diet side-effects – let's see what side-effects it might have:
Gastrointestinal issues: There can be digestive problems and stomach upset because of consuming apple cider vinegar. Nausea heartburn and indigestion are the most common side effects.
Allergic reactions: One can experience reactions like itching, swelling, hives, rash and breathing problems because of apple cider vinegar. If any such reaction is experienced, you need to stop taking vinegar immediately and consult a doctor.
Low bone density warning: If you have been using apple cider vinegar for a very long time it may cause low potassium levels and decrease bone density. Apple cider vinegar is not a recommended dietary supplement if you have low bone density or osteoporosis.
Dental concerns: ACV is acidic, and even the diluted oral consumption can be risky. Vinegar tends to yellow the teeth and Erode the dental enamel. It might result in sensitivity issues like feeling too cold and hot liquids. Straw should be used while drinking apple cider vinegar to avoid this side effect. Honey should be diluted to decrease the acidic properties, and you should brush your teeth after its consumption.
Recommended Post –
Apple cider vinegar has many health benefits if used correctly and as prescribed. By taking a few measures, you can also do away with its side effects.