With flawless features, striking personality, and deep green eyes, this beauty has experimented with different Aishwarya Rai hairstyles and surely rocked each and every look.
So, let's have a look at some of the top inspiring Aishwarya Rai hairstyles with photos.
Aishwarya Rai's haircuts will definitely give you many ideas especially if you are looking for hairstyles for women over 40.
Top Bollywood Actresses' Hairstyles
Center Parting Low Ponytail
The long hair brunette ponytail of Aishwarya Rai is an extremely classy way to style your locks. In order to get this style, just the middle part of your hair, run a flat iron and brush all your hair into a low ponytail.
---
Center-Parted Sleek and Straight Hair
On the Cannes Film Festival occasion, Aishwarya Rai put their best foot forward by going ahead with this simple straight look. Here, her chocolate brown hair color gives her locks a lustrous shine. It is one of the best Aishwarya Rai haircuts.
Aishwarya Rai's daughter's hairstyle is also very stylish, called a long bob with bangs. For similar center parted sleek and straight hair check out Kajol Hairstyles and Sara Ali Khan Hairstyles.
Wavy Curls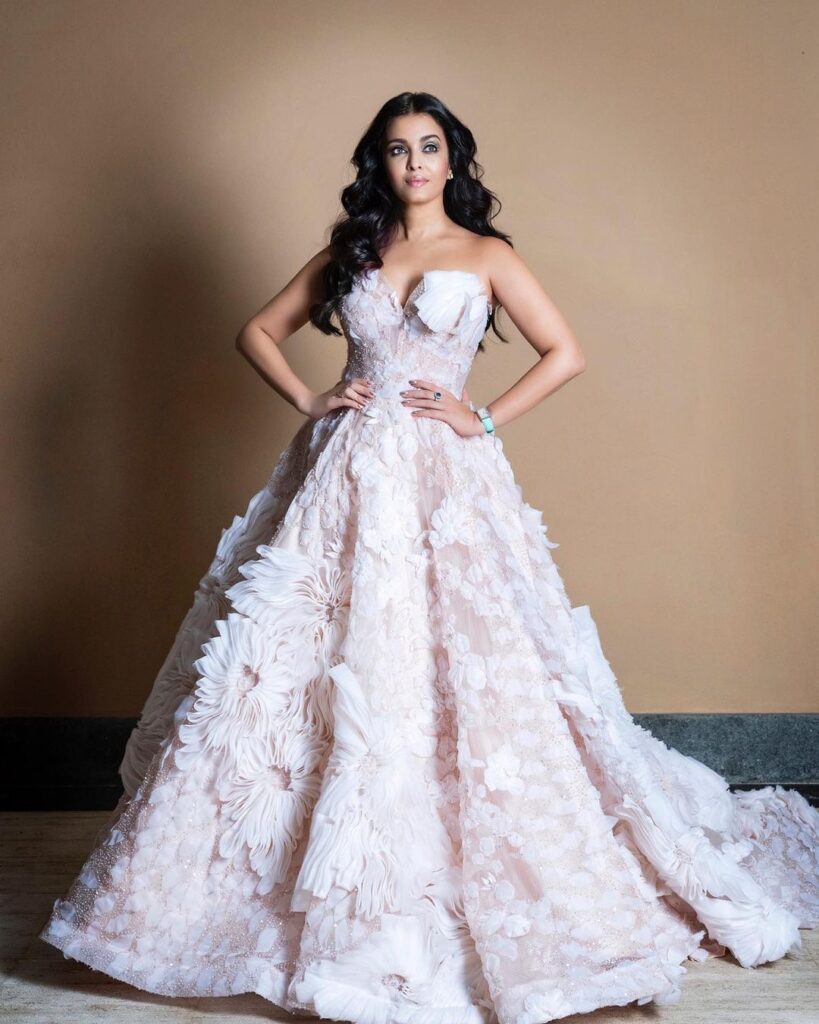 Wavy hair is among the well-known hairstyles of Aishwarya Rai. Moreover, it is among the ideal hairstyles for tall girls that can be easily achieved by loosely curling your hair at the ends.
---
Pink Hair Ends
Her fans totally love this pink-shaded hair of Aishwarya Rai. Her hair care secrets include hot oil massage once a week. You can try this Aishwarya Rai hair color to get a new look.
High Bun
The high bun updo is one of the professional hairstyles that are classic and suitable for any occasion. To get this amazing updo, you will straighten your hair, backcomb as much as possible and then secure it in the form of a high bun with pins.
---
Wet and Sleek Hairstyle
One of 40s women's hairstyles, the sleek, wet hair can be simply achieved by shampooing and conditioning your hair and combining all of your locks to the back.
Puff Bun with Accessories
Aishwarya Rai carries this elegant updo effortlessly and with full grace. Be it a heavy gown or simple Anarkali; she doesn't fail to look best on her hairstyles.
---
Short Curls
Here comes one of the best youthful curly hair looks with a layered haircut. Her chunky curls gave her a cute teenage look and became a trendy hairdo at that time.
High Tight Bun
Another hairstyle of Aishwarya Rai's is the best and cleanest updo that suits her face shape perfectly. You can try this look when wearing an ethnic outfit.
This look is created by Aishwarya Rai hair stylist Aastha Sharma.
93 Images of Aishwarya Rai Hairstyles
---
Conclusion
These were some of the gorgeous Aishwarya Rai hairstyles that can be achieved only if you follow a proper hair care regime along with regular hair treatment sittings.
Moreover, behind all these trendy hairstyles is the celebrity hairstylist Astha Sharma, who brings out the best hairdo of Aishwarya Rai.