We've got to agree on how beautiful Rakul Preet Singh is. The Rakul Preet Singh Hairstyles makes add to her beauty.
Let's look at Rakul Preet Singh hairstyles that took our breath away.
Half Tie
This is going to be one of her beautiful hairstyles for tall girls. The volume, loose waves, outfit, everything just adds to her subtle look. Unfortunately, her half-tie is somewhat messy. It looks like she made the pony using fingers instead of a comb. Check out similar half tie hairstyles with Kareena Kapoor hairstyle and Kiara Advani hairstyles.
Low Ponytail
Acing a low ponytail hairstyle on a windy beach day, this diva knows what to style when. She must've used hairspray as her hair stays till while the wind flows. However, her decision to leave some hair on the front is good.
Recommended Post –
Center Parted Sleek Hair
Let's all take a moment to appreciate the beauty of this look. Rakul surely knows how to make a long hairstyle beautifully. However, the neatness of this look is the beauty of it. She kept the hair tucked behind her neatly without showing the hairpins.
This is a subtle but a bold look for 20s women hairstyle. Rakul Preet Singh haircut says it all that she is here to spread her magic.
Top Knot
Another sunny day in the water, but she decided to keep it simple. Her top knot look suggests that she wants to just play in the water. Her bun is a little messy, but it totally goes with the look she's trying to get. For similar low bun hairstyles you must check out Kajol Hairstyles and Kangana Ranuat Hairstyles.
Recommended Post –
High Tight Ponytail
Rakul Preet Singh hairstyles have got in our heads. Her high pony look is casual but keeping it tight makes it look bold. Plus, her makeup is top-notch, matching the theme of the look. We guess she's trying to tell us how to be bold and comfortable.
Curly Short Hair
Rakul Preet can pull off any hairstyle- first long and now this short haircut. Those beautiful beach waves surrounding her face are just wow. The messy side partition is doing justice to her whole look. For similar curly looks check out Anushka Sharma hairstyles and Sara Ali Khan hairstyles.
Recommended Post –
Gelled Hair
Rakul is giving us some amazing professional hairstyles ideas. Her gelled hair on the front looks so formal and beautiful. Her long hair flows on the back while the neat side partition stares at the front. Bold makeup plus a bold outfit equals 200 % boldness.
Center Parted Curls
Did you notice how beautifully this Bollywood actress looks in every style? Her center-parted curls suit her casual outfit beautifully. We're sure she is having a good time with her fun hairdo. The big hoop earrings go well with her long hair. Rakul Preet Singh hair colour is a plus with her looks. For similar beach waves hairstyles you must check Alia Bhatt hairstyles and Ananya Pandey hairstyles.
Recommended Post –
Side Braid
The little side braid with a center partition is going to be one of our favorite looks. The way she decided to pair the style with an embroidered top is commendable. What adds more beauty to the look is her soft curls at the ends. For more braided hairstyles check out Sonam Kapoor hairstyles and Shraddha Kapoor hairstyles.
The big silver earrings just go smoothly with her hairstyle. We bet that she got a lot of compliments for this look.
Messy Hair
Messy hair, comfortable clothes, and a mind filled with life-changing thoughts, that's what this picture says. The way she is running her fingers through her smooth hair is breathtaking. We think that's how she looks when she wakes up.
This might be her comfort look at home. Messy hair means she didn't bother to comb her hair, but it still looks beautiful.
Recommended Post –
Long Braid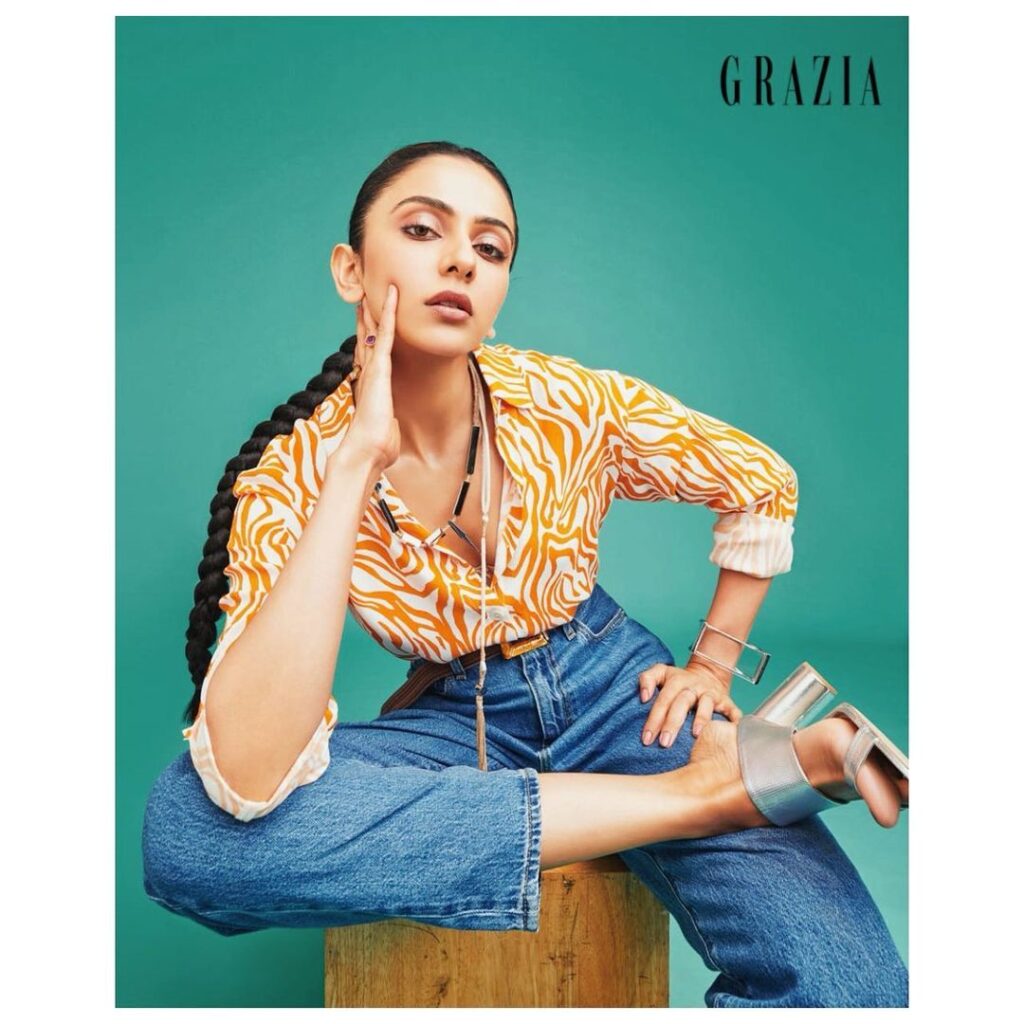 This can be another hairstyle for working women. The way her long braid starts from the bottom and keeps going. This is not a classic braid; it's twisted, so that's creative. Also, her hair is neat up front, so that's subtle.
144 Images of Rakulpreet Singh's Hairstyles
Conclusion
We can say for sure Rakul Preet Singh looked stunning in these hairdos and hair colors. We hope you loved each Rakul Preet Singh hairstyles as we did. You can even try them yourself.