Breasts are an intimate area that requires care and hygiene practices as they are liable to soreness, tenderness, nipple discharge, itchiness, boob sweat, or inflammation.
These are the many reasons why one should maintain boob/breast hygiene. It is important that the boob area must be washed clean and should remain dry so that there is no discomfort while wearing bras as it may cause itchiness and rashes. Also, it's important to take care of your personal hygiene so that both you and your baby remain healthy. Let's explore more about it.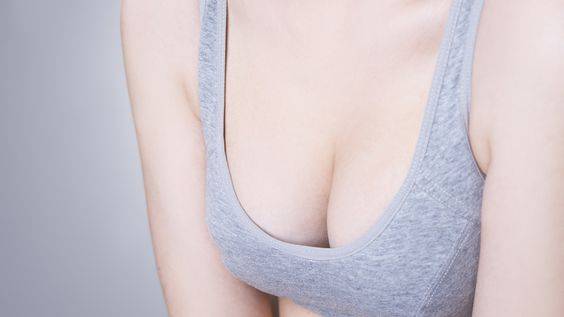 Breast hygiene is an important factor among girls after they hit puberty and women of all ages, especially for nursing or breastfeeding mothers. Maintaining breast hygiene among women becomes important because, like the vagina, the breasts are also an intimate area that requires care and cleansing.
An important reason is that babies feed through the nipples, located at the tip of the breasts, to avoid germs or bacterial infections; it is important why women should maintain breast hygiene. Besides that, breast hygiene is important for women for personal health as well, and maintaining good boob hygiene is a step to a healthier lifestyle.
Breastfeeding hygiene is important because many times, women may get sore nipples due to nursing, and it creates discomfort and pain among women.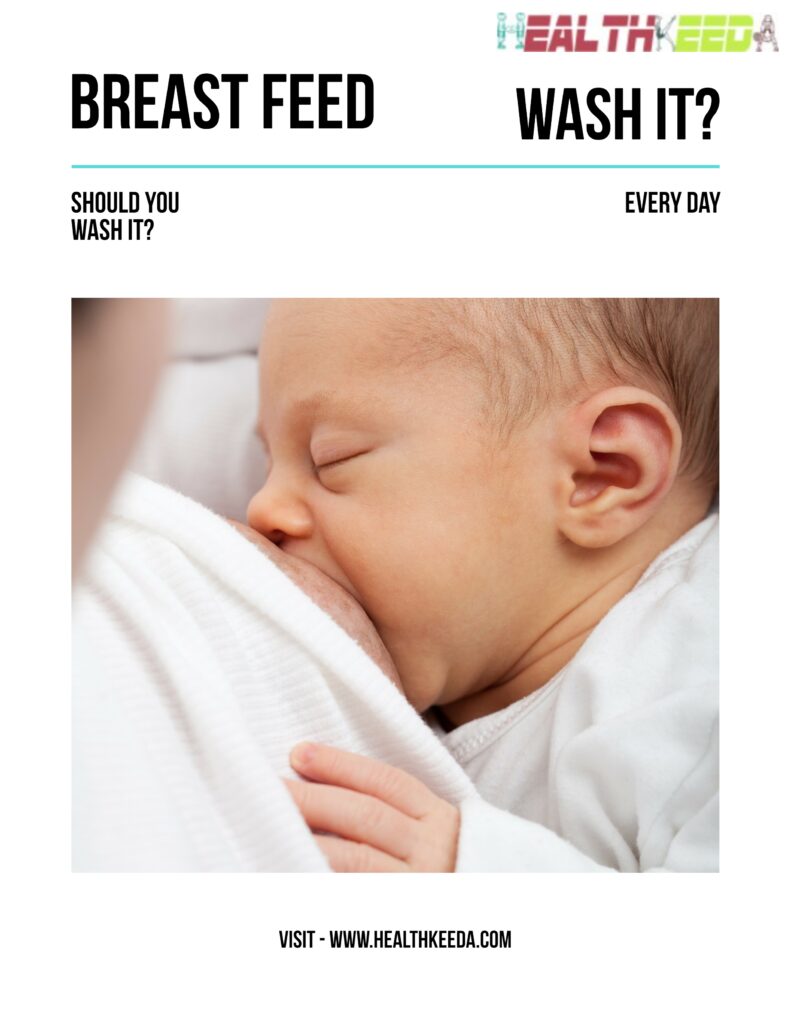 No, it is not important to wash breasts after every feeding. But, one can rinse it a few times a day to remove any saliva or germs.
Even if one doesn't need to wash their breasts after every feed, it is important to wipe the nipple before every feed as the baby will be nursing on it.
Doctors advise that the nipple and areola should be rinsed with no soap but lukewarm water and with a soft cotton towel. One can maintain breast hygiene before breastfeeding and after as well. This step of rinsing and wiping the breasts or nipple area is important due to breast sweating during summer.
Here are some great tips to keep the boob area clean and maintain breast hygiene: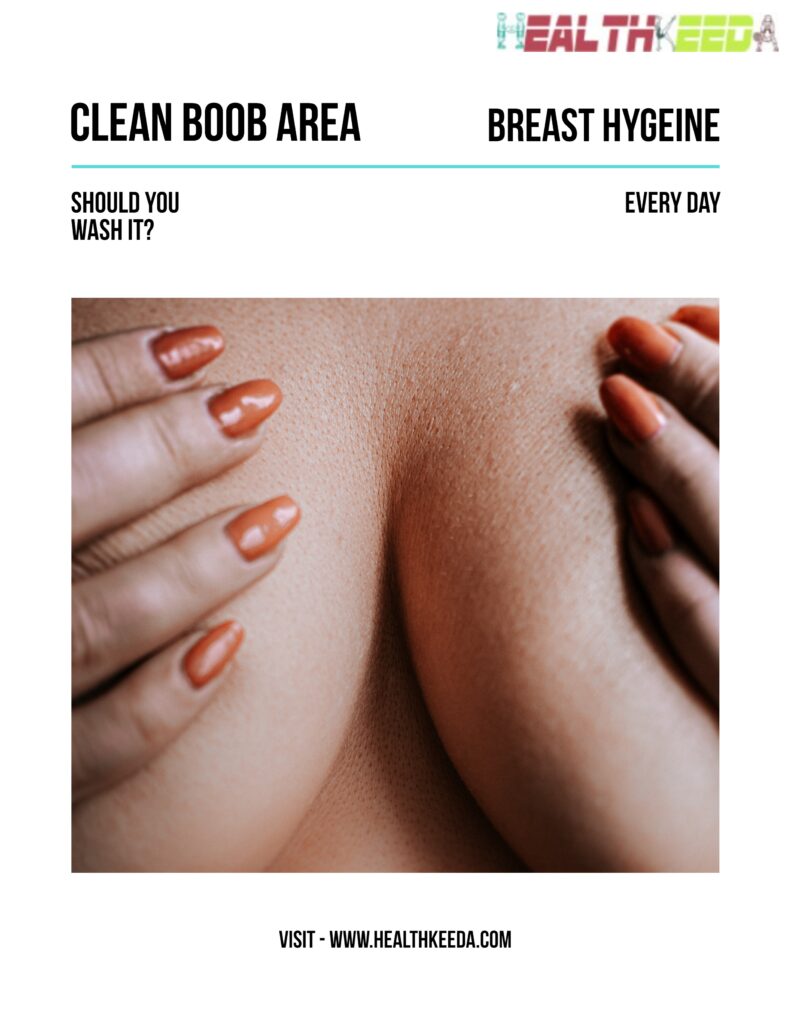 ● Avoid any chemicals or scented products. We all know it is preferable to smell wonderful and moisturize the body but using scented products or products with parabens is not beneficial for the mother and both her newborn child.
Along with that, the nipple and boob area is an intimate region that shouldn't be applied with chemicals or harsh substances like soap. The best option is to gently clean it with warm water or unscented soaps or paraben-free products.
● Even if one doesn't have to keep washing or to rinse the breasts, it is important to moisturize the boob area with a gentle moisturizer and wipe it before and after breastfeeding with warm water cleansing wipes.
● One of the important factors of breast care and hygiene are nursing pads. They are a kind of protection for women to put on their breasts to avoid any leakage of fluids on clothes.
One must change their nursing pads frequently due to breast pad hygiene as the boob area is probable to bacteria and yeast infections due to boob sweat.
● It is important to keep the Breast Pump Clean to maintain a clean environment for the baby. Now, what exactly is a breast pump? It is a device that allows lactating women to extract milk from their breasts. The breast pump is a dedicated device and mustn't be cleansed with what one washes their clothes or dishes with.
It is important to cleanse it with a separate hygiene kit available just for breast pumps. For instance, one can follow the CDC breast pump hygiene steps recommended by doctors for nursing mothers or with the help of the Ameda breast pump hygiene kit to prevent any chemicals or germs.
● Apart from maintenance breast/boob hygiene, women must maintain general hygiene before and after breastfeeding, especially due to the Covid-19 outbreak; washing hands and using a hand sanitizer before breastfeeding is essential for both the baby and the mother.
● Lastly, women should wear a different bra daily. Nursing women's bras can get dirtier than usual on days due to saliva, sweat, and also there can be leakage of breast fluids. All these lead to the growth of germs and bacteria and cause rashes or infections in women, leading to a lot of discomfort and uneasiness.
Pro Tip – 18 Breast Firming Exercises
For nursing mothers, breast hygiene becomes of utmost importance, not only for the baby but for women's hygiene as well. It is important to clean the breast area daily, and sometimes there are situations which may not be comfortable for women to wash and rinse their breasts each time they breastfeed; hence breast cleaning wipes come as a savior.
There are several brands available in the market which offer quality products in terms of cleansing wipes. Still, the Chicco cleansing wipes for breast hygiene is one of the best cleaning wipes available for women to utilize as it is soft and gentle on the skin. It has been clinically tested and is free from alcohol and parabens.
The Chicco cleansing breast wipes also helps in moisturizing and protecting the skin in the boob area as it contains vitamin e and glycerine, which nourishes and keeps the skin hydrated.
Pro Tip – Best Breast Shape as per your height and age
One can wipe the areola, nipples, and the rest of the breast area with comfort. It reduces the chance of germs and infections.
Breast hygiene is important for women all across ages; it's not a very difficult task but can be for some, especially nursing mothers, as taking care of children and maintaining personal care can be stressful.
These tips will help one in the long run and can be beneficial for both the baby and the mother. One can also pass these tips to their friends, families, and acquaintances as following these tips encourages a healthy lifestyle.